Corpun file 25510 at www.corpun.com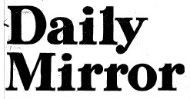 Daily Mirror, London, 1 October 1964, p.25
Cigarette boys are given 'four of the best'
Click to enlarge
TWO public schoolboys who were suspended for refusing to be caned decided yesterday to accept their punishment.
Barry Spanjar, of Stepney, London, and Christopher Hall, of Bromley, Kent, both seventeen, were suspended on Tuesday. They were to be caned for smoking at the City of London School.
Yesterday, after the headmaster wrote to their parents, the boys gave in -- and each received "four of the best."
Afterwards, Barry said: "I felt we had made our stand against this Victorian attitude of caning boys of our age."
Other external links: School corporal punishment in Britain