Corpun file 25509 at www.corpun.com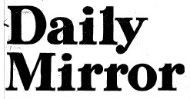 Daily Mirror, London, 19 June 1963, p.11
Apologise, head tells a father
Complaint after caning threat
By Mirror Reporter
Click to enlarge
A HEADMASTER told the father of a 13-year-old boy yesterday: "Your son cannot return to school until you apologise for writing a letter of complaint, and unless he submits to a caning."
But the father, 57-year-old Mr. Arthur Spurr, said: "My boy will stay away until the Head withdraws his fantastic demand.''
The trouble started last Thursday when Nigel Spurr had to spend his lunch break doing extra work for talking during his school meal.
Caned
He was seen by the headmaster, Mr. A.L. Belton, at Highfield County Secondary School, Chatham, Kent.
Nigel said yesterday: "The Head told me that the next time I did anything wrong I would be caned. I was upset because he did not appear to listen to my claim that I was not talking.
"I took a letter of complaint from my father to the Head next morning.
Refused
"Instead of reading the letter, Mr. Belton stood me in his study and made me watch while he caned two boys.
"Then he read my father's letter and said he was going to cane me.
"I had done nothing wrong, so I refused to take the punishment. I was suspended."
Now Mr. Belton has written to Mr. Spurr saying the suspension will be ended only if the boy accepts discipline and the father apologises for his letter of complaint.
A spokesman for Kent Education Committee said: "This is a school matter. We have no comment."
Meanwhile, Nigel, a Salvation Army cadet and member of the school band, said: "I am not afraid to be punished for something I have done, but I am not going to be caned just because my father wrote a letter."