Corpun file 25449 at www.corpun.com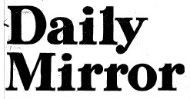 Daily Mirror, London, 2 October 1962, p.5
Lessons over -- So now for a quick drag
Three grammar-school boys lounged in a classroom of the upper fifth yesterday -- smoking.
It was the first day of an experiment by the school's headmaster, the Rev. Edwin Smithies, 38.
He decided to let pupils smoke in one room of the school for half an hour every day, if they got the written consent of their parents.
Out of 110 boys and girls at the school -- Highfields School, a private grammar school at Horbury, near Wakefield, Yorks -- only four boys turned up with "smoking passports."
Mr. Smithies said: "It's like the forbidden fruit. As soon as pupils know they can smoke, they aren't so anxious to do so."
Click to enlarge
Cane
"In future I will rigidly enforce the no-smoking rule outside the permitted time in the smoking room. It will be six strokes of the cane for anyone who is caught."
His scheme has the backing of the school's governors and some of the parents.
One of the smokers, David Richards, 17, who is a prefect, spends 5s. a week on cigarettes.
He said: "Before this, we had to smoke on the quiet. Now we can help to stamp out smoking among boys who haven't got their parents' permission."
Jacqueline Buckler, 18, head girl of the school, said: "Smoking is a filthy habit. I wouldn't go out with a boy who smoked."