The Times, London, 22 September 1961, p.5
85 Boys Caned On Strike Day
Summary Justice
From Our Correspondent
HULL, Sept. 21
Click to enlarge
Eighty-five boys were caned at a Hull school on Wednesday -- the day that most of the teachers went on strike. The headmaster, Mr. G.F. Lawe, said today: "Some fourth-form boys regarded the circumstances of the day as an excuse to let off high spirits.
"They created a bit of a disturbance and were late coming in to morning prayers. I dealt with it on the spot and gave each of them two strokes of the cane on the hand."
All classes except the fourth-form group at the school, in Maybury Road, Hull, were given a day's holiday on Wednesday because of the strike. About 300 boys in their final year were told to be there as usual.
Soon after 9 a.m. one of the two playground duty masters called a group of boys together, ordered them to line up in twos, and sent for the headmaster.
Rowdy and Late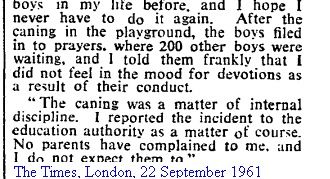 Click to enlarge
"The group was very orderly when I arrived", said Mr. Lawe. "I was told that they had been rowdy in the playground and were late. I have never caned so many boys in my life before and I hope I never have to do it again. After the caning in the playground, the boys filed in to prayers, where 200 other boys were waiting, and I told them frankly that I did not feel in the mood for devotions as a result of their conduct.
"The caning was a matter of internal discipline. I reported the incident to the education authority as a matter of course. No parents have complained to me, and I do not expect them to."
Illustrated article: UK school CP
Other external links: School corporal punishment in Britain