Corpun file 25500 at www.corpun.com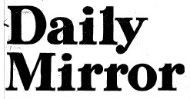 Daily Mirror, London, 10 June 1960, p.9
Caned for mixing with the girls
Schoolboys protest
Click to enlarge
THE headmaster of a co-educational grammar school denied yesterday that a ban on boy and girl pupils mixing in the lunch-hour was designed to stop school ROMANCES.
"It is a commonsense rule based on the fact that boys play more boisterous games and girls might get hurt," said thirty-six-year-old Mr. W.E. Hayward, head of Coalville, Leics., Grammar School.
Some senior boys have already been caned for breaking the rules.
Eight others have been promised a caning when they return on Monday after the holiday.
The eight were among pupils who took part in a demonstration against the ban last Friday.
While boys and girls sat on opposite sides of a white line across the playing field, a banner saying "Down with the mixing ban" was paraded.
'Indignant'
The line across the playing field marks the boundary between the boys' and girls' sections of the field.
There are 600 pupils at the school.
One of the senior girls said yesterday: "Everybody is indignant. After all, this is a co-educational school, not a nunnery or a monastery."
Mr. Hayward said that the rule was not a new one, but there had been recent action to enforce it.
The headmaster added: "There may have to be some rethinking. But the position at the moment is that the rule must be enforced."