Corpun file 25499 at www.corpun.com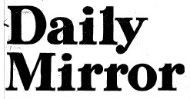 Daily Mirror, London, 19 March 1960, p.3
School lunch rebels caned
By Don Short
Click to enlarge
TWENTY-FOUR grammar school boys who refused to eat their school lunch yesterday because they claimed it was NOT BIG ENOUGH, were caned by their headmaster.
Six of the boys were prefects. They had their prefect badges stripped from their lapels by the head.
And a girl prefect who took part in the meal strike also was "sacked" as a prefect.
The strike was at the newly-opened £250,000 Rayleigh Sweyne co-educational grammar school, at Rayleigh, Essex.
The strike came after the 800 boys and girls at the school had sent deputations to the headmaster, Mr. R. A. Bowman, aged forty-nine.
The first deputation, three weeks ago, asked Mr. Bowman, "Can't we have more for lunch,"
'Four chips'
The pupils complained then of being given a biscuit or an orange for their sweet and of getting only three or four potato chips with one sausage for their main course.
Mr. Bowman promised to look into their case.
But the pupils thought the ls.-a-day meals seemed to be getting more meagre, and NEW deputations followed.
Yesterday the menu was fish cake and cold salad, followed by bread and butter pudding.
But the rebel group, mainly fifth and sixth formers, ate their own sandwiches or went to a cafe near the school.
Later the head called them into his office.
"We were each caned four times." said sixthformer Keith Mitchell, aged sixteen.
Another rebel, seventeen-year-old Henry Mockridge, claimed: "We felt pretty mad about the meal. By the afternoon we felt as if we had had no lunch at all."
Last night the rebels met to plan their next move and two fathers turned up to back them.
But seventeen-year-old head prefect John Thayer, who DIDN'T join the strike, also turned up and said:
"The meals are bad, but it isn't Mr. Bowman's fault. You were lucky to get off with a caning."
Headmaster Mr. Bowman told me at his home, "I will not discuss this. The parents can complain if they wish."
Chairman of the school governors Mr. David Day, 72, said: "The trouble is that the school kitchen, although up to Ministry standards, is not adequate to cope with the demand."