Corpun file 24651 at www.corpun.com
Daily Mail, London, 7 December 1959, p.14
Paul Tanfield
Scotch at Harrow
Click to enlarge
THE headmaster of Harrow, Dr. R.L. James, was entertaining guests in his rooms when senior boy C.S.E. Clive-Ponsonby-Fane arrived with urgent news.
The head listened gravely, begged leave absence from his guests "for just a few moments" and went to his study. There he chose, with the knowledge of long experience, a flexible willow cane.

The ill tidings that made him leave his companions? Liquor had been found by the diligent Clive-Ponsonby-Fane in a cupboard in one of the houses.

Six of the boys had been doing themselves proud with a selection of whisky and port.

Dr. James is a man with a dry sense of humour. As the culprits faced him -- eyeing the willow with some trepidation -- he inquired which of them favoured Scotch and which were the "port men."

When the port fanciers revealed themselves he nodded appreciatively. "Ah," he remarked. "we have gentlemen here. Bend over . . . ."

Justice was dispensed in brief but thorough fashion. Dr. James replaced his cane and returned to his guests. And last night six Harrovians sat down before prep to write to their parents explaining why the head had given each of them six of the best.

The whisky and port have been confiscated. Prohibition has returned to Harrow.
---
---
Corpun file 20961 at www.corpun.com
The Times, London, 9 December 1959
Conviction Against Teacher Quashed
Court Allow Strapping Case Appeal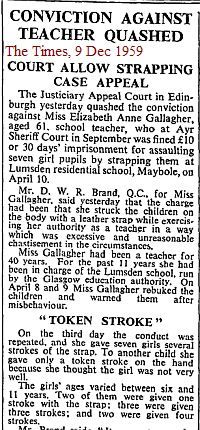 Click to enlarge
The Justiciary Appeal Court in Edinburgh yesterday quashed the conviction against Miss Elizabeth Anne Gallagher, aged 61, school teacher, who at Ayr Sheriff Court in September was fined £10 or 30 days' imprisonment for assaulting seven girl pupils by strapping them at Lumsden residential school, Maybole, on April 10.

Mr. D.W.R. Brand Q.C., for Miss Gallagher, said yesterday that the charge had been that she struck the children on the body with a leather strap while exercising her authority as a teacher in a way which was excessive and unreasonable chastisement in the circumstances.

Miss Gallagher had been a teacher for 40 years. For the past 11 years she had been in charge of the Lumsden school, run by the Glasgow education authority. On April 8 and 9 Miss Gallagher rebuked the children and warned them after misbehaviour.
"Token stroke"
On the third day the conduct was repeated, and she gave seven girls several strokes of the strap. To another child she gave only a token stroke on the hand because she thought the girl was not very well.

The girls' ages varied between six and 11 years. Two of them were given one stroke with the strap; three were given three strokes; and two were given four strokes.

Mr. Brand said: "It seems to me the proper way to look at this case is to ask whether what the appellant did to the children was conduct which one could condemn if carried out by a parent as being grossly excessive or cruel or savage."

The Sheriff had said the rule book provided that corporal punishment might be inflicted only by means of the strap supplied by the corporation, and that it was strictly forbidden to strike any pupil elsewhere than on the palm of the hand. Corporal punishment was not to be inflicted on any delicate or infirm child. All the children mentioned in the complaint, said the Sheriff, had a history of illness or poor health, and Miss Gallagher had struck the girls on the buttocks or thighs.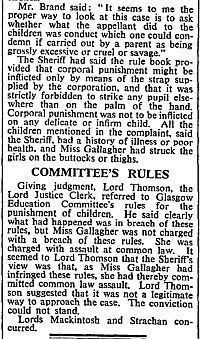 Click to enlarge
Committee's rules
Giving judgment, Lord Thomson, the Lord Justice Clerk, referred to Glasgow Education Committee's rules for the punishment of children. He said clearly what had happened was in breach of these rules, but Miss Gallagher was not charged with a breach of these rules. She was charged with assault at common law. It seemed to Lord Thomson that the Sheriff's view was that, as Miss Gallagher had infringed these rules, she had thereby committed common law assault. Lord Thomson suggested that it was not a legitimate way to approach the case. The conviction could not stand.

Lords Mackintosh and Strachan concurred.
Other external links: School corporal punishment in Britain