Corpun file 25204 at www.corpun.com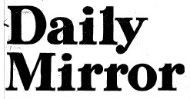 Daily Mirror, London, 30 July 1959
Boy, 15, hit headmaster with bottle
-- after 'bend-over' order
By John Sandiford
Click to enlarge
THE mother of a fifteen-year-old boy who has been suspended from one of Britain's oldest grammar schools told me last night that he had hit his headmaster in the face with a bottle.
"I cannot make any excuses for him," she added. "He has done wrong."
The mother, Mrs. Mary Smith, of Osborne-road, Southampton, had just posted a letter to the governors of Southampton's King Edward VI Grammar School, which was founded in 1553.
In the letter she pleaded with the governors not to expel her fourth former son, Eric.
Mrs. Smith explained: "A master brought Eric home last Friday, the last day of term, and told me my son had hit the headmaster, Dr. John Stroud.
"I was horrified, because Eric has never done anything wrong before. I can't understand what came over him."
Mrs. Smith said that Eric -- who had been nominated for his form's "integrity" prize -- had been told to report to the head for punishment after arguing with his form master. Twice the head was too busy to see him. When he returned the third time, Mrs Smith went on, Eric was told to bend over to be caned.
He snatched the bottle from his pocket and flung it in the head's face.