Corpun file 25203 at www.corpun.com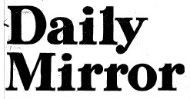 Daily Mirror, London, 9 October 1958. p.6
'Romance rioters' are caned
By Desmond Wilcox
Click to enlarge
The battle between the pupils of two big secondary modern schools in Harold Hill, Essex, ended smartly yesterday morning, very smartly.

Eight boys from the new 900-pupil Harrowfields Boys' School queued outside the study of headmaster Clifford Gregson for a caning.

They received two whacks each across the seat of their trousers for the ringleaders' part they played in the fighting on Tuesday night between their school and the nearby Quarles Secondary Modern School.
Bottles . . .
The fight was said to have been started by boys from Harrowfields who claimed that fourteen-year-old Alan Rouse, from Quarles, had "stolen" the girl friend of one of their chums.

Milk bottles were smashed, and mud and sticks were thrown by the chanting mob outside Quarles School. They were dispersed after a few minutes, by two teachers and a policeman.

Yesterday, Mr. Gregson ticked off the whole school alter morning prayers for "rowdy behaviour," and then caned the boys who owned up as ringleaders.

"That's the last you'll hear of this incident," he told me.

Inspector Len Fisher, chief of Harold Hill police, said: "There was a lot of noise and fuss -- but I doubt if more than four or five of the kids really knew what it was supposed to be about."
'Nice Lad'
The girl who was said to be the cause of the trouble -- Linda Lipman, 14, of Harrowfields -- went to school yesterday. So did Alan.

Linda's father, Mr. Joseph Lipman, said last night at his home in Cricklade-avenue, Harold Hill: "Linda has brought young Alan round here two or three times.

"He seems a nice lad and I don't object to her seeing him.

"This row at school appears to have flared up out of nothing."
Illustrated article: UK school CP
Other external links: Corporal punishment in British schools