Corpun file 25202 at www.corpun.com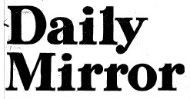 Daily Mirror, London, 26 April 1958, p.5
Prefects swoop on the vodka
By David Thurlow
Click to enlarge
THE school prefects decided there was too much smoking, which was against the rules, by the senior boys.
So the prefects -- at Felsted School, near Braintree, Essex -- raided the 380 senior boys' lockers and tuck-boxes, looking for cigarettes ...
They found cigarettes ... HUNDREDS of them. But they also found things they were not expecting --
* Two hundred rounds of 8.22 calibre ammunition, some twelve-bore shotgun cartridges, and an air pistol;
* Miniature bottles of gin, brandy, whisky and vodka, and bottles of beer.
30 Caned
After the swoop, more than thirty boys were caned by prefects.
Others -- including those who had the ammunition -- were sent to be dealt with by their housemasters.
Nobody was expelled from the school, which charges up to £324 a year fees for his 500 boys, and has the Home Secretary, Mr. R.A. Butler, on the board of governors.
Last night the headmaster of Felsted, Mr. H.E. Reekie, said: "Neither I nor the masters were brought into the search. The prefects decided on it themselves."
Mr. Reekie added: "The boys caught with cigarettes and miniature bottles of spirits were mainly aged fifteen and sixteen.
"They probably did it out of bravado."