Empire News, Manchester, 11 July 1954
'Flog them' man loses his canes
POLICE have again raided the premises of 32-year-old Eric Wildman, the advocate of caning and flogging for boys and girls.
Mr. Wildman was fined £500, with the alternative of 12 months' imprisonment, at the Old Bailey last year for publishing obscene libels. He describes himself as "President of the National Society for the Retention of Corporal Punishment."
There is a "To Let" sign outside his office in City-road, London, today.
He told me: "I have no statement to make, but you can form your own conclusions.
"My whole stock-in-trade has gone and you can see for yourself that 'the boards are up.'
"I do not want to say when the police confiscated my stock, or why, as I consider the whole matter sub judice."
After his conviction, Mr. Wildman continued to supply canes to many organisations, including several public schools.
---
Previous: 27 October 1953 - Obscene books to be destroyed

See also: Eric Wildman timeline
---
---

Daily Dispatch, Manchester, 13 July 1954
Head canes 200 boys

Click to enlarge
"TYRANNICAL, high-handed?" The blue eyes of Mr. Oliver Whitfield, small, slim-built headmaster of Usworth Secondary Modern School, County Durham, flashed and he laughed last night.
After the school had been redecorated last week someone wrote "an obscene word" in the boys' porch. No pupil would own up.
Mr. Whitfield warned them all that he would use the cane if the offence was repeated. The word was scrawled again. No one admitted doing it. So the 200 boys received one stroke each.
"If any parent feels I have acted tyrannically or without justification he can go to court," Mr. Whitfield said. "But I have no fear. No one has complained to me."
---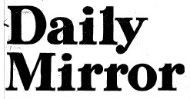 Daily Mirror, London, 30 July 1954
Flo won't sack the 'caning' headmaster
THE sacking of a headmaster who "punished 199 innocent boys" was demanded in the Commons yesterday by Mr. Peter Freeman (Lab. Newport).
He said that Mr Oliver Whitfield, of Usworth (Co. Durham) Secondary Modern School, had caned 200 boys because he was unable to discover the culprit of "a misdemeanour alleged to have been made by one of them."
The 200 boys were caned because no one owned up to a drawing on the porch of the school.
Miss Florence Horsbrugh, Education Minister, replied that discipline in schools was under the control of headmasters and she would not intervene.
"In any case I have no power to require the dismissal of a headmaster," she added.
Mr. Freeman asked if this were not a gross abuse of the ordinary customs of justice?
Miss Horsbrugh: "I am not expressing an opinion whether there was justice or not."