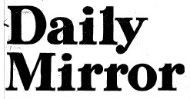 Daily Mirror, London, 10 April 1953
Raiders found 3,000 canes
Court told
"Daily Mirror" Reporter
POLICE who raided the offices and home of Eric Arthur Wildman found more than 3,000 canes, photographs dealing with whipping, and masses of obscene literature, a magistrate was told yesterday. Wildman, a married man of thirty-two, having addresses at City-road, London, and Blackhorse-lane, Walthamstow, was appearing at Old-street court on summonses alleging that he published obscene literature.
Wildman, tall and well-dressed, sat on a chair in front of the dock, making notes in a red-covered exercise book. Policewoman Ivy Sibun told the court that she had made a visit in plain clothes to Wildman's office. She took a £1 note and, acting on instructions from Chief Detective-Inspector Davis, saw Wildman and a young woman.
She told Wildman, "I am interested in keeping corporal punishment. Have you any literature on the subject?" Wildman gave her a list of publications, said Policewoman Sibun, and she chose two entitled: "Should girls be trained with the cane?"
Wildman charged her 10s. each and gave her a free booklet.
Mr. R. E. Seaton, for the Director of Public Prosecutions, told Mr. Leslie Marks, the magistrate, that Wildman had advertised on a large scale.
All the publications which Wildman sold (at prices up to two guineas) were obviously pornographic, said Mr. Seaton, and were in no sense scientific works.
The hearing was adjourned to next Wednesday.
---
See also: Eric Wildman timeline