Corpun file 21077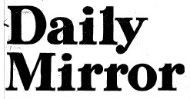 Daily Mirror, London, 26 April 1947
His business is simply whacking!
Eric A. Wildman, 26, ex-Merchant Navy, would probably be Public Enemy No. 1 if schoolboys had any say in the matter. For Eric is a firm believer in corporal punishment -- it's his business.
To more than 100 schools he supplies canes and birches and -- oh! -- everything necessary to produce a schoolboy howler.
He is, however, a strong opponent of thrashing. "I was caned at school, and it did me good," he said yesterday.
"But a child should not be caned on its hands -- the proper place is the old-established one."
---
See also: Eric Wildman timeline