The Times, London, 19 March 1921
To Cane Or Not?
Headmaster of Rugby's Views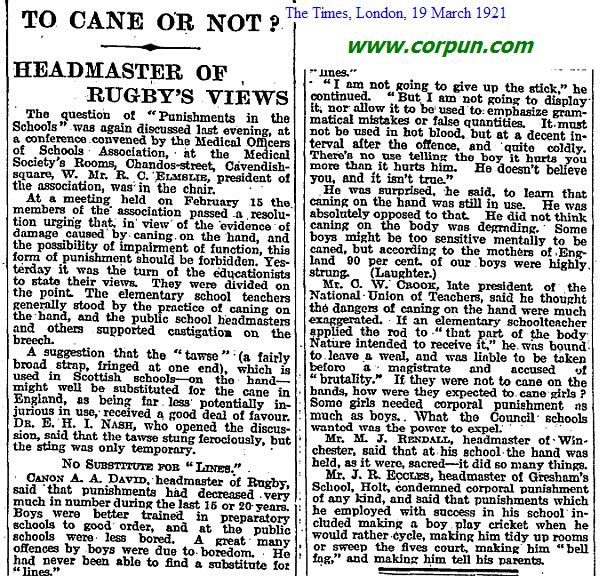 Click to enlarge
The question of "Punishment in the Schools" was again discussed last evening, at a conference convened by the Medical Officers of Schools Association, at the Medical Society's Rooms, Chandos-street, Cavendish-square, W. Mr. R.C. ELMSLIE, president of the association, was in the chair.
At a meeting held on February 15 the members of the association passed a resolution urging that, in view of the evidence of damage caused by caning on the hand, and the possibility of impairment of function, this form of punishment should be forbidden. Yesterday it was the turn of the educationists to state their views. They were divided on the point. The elementary school teachers generally stood by the practice of caning on the hand, and the public school headmasters and others supported castigation on the breech.
A suggestion that the "tawse" (a fairly broad strap, fringed at one end), which is used in Scottish schools -- on the hand -- might well be substituted for the cane in England, as being far less potentially injurious in use, received a good deal of favour. DR. E.H.L. NASH, who opened the discussion, said that the tawse stung ferociously, but the sting was only temporary.
No Substitute for "Lines."
CANON A.A. DAVID, headmaster of Rugby, said that punishments had decreased very much in number during the last 15 or 20 years. Boys were better trained in preparatory schools to good order, and at the public schools were less bored. A great many offences by boys were due to boredom. He had never been able to find a substitute for "lines."
"I am not going to give up the stick," he continued. "But I am not going to display it, nor allow it to be used to emphasize grammatical mistakes or false quantities. It must not be used in hot blood, but at a decent interval after the offence, and quite coldly. There's no use telling the boy it hurts you more than it hurts him. He doesn't believe you, and it isn't true."
He was surprised, he said, to learn that caning on the hand was still in use. He was absolutely opposed to that. He did not think caning on the body was degrading. Some boys might be too sensitive mentally to be caned, but according to the mothers of England 90 per cent of our boys were highly strung. (Laughter.)
Mr. C.W. CROOK, late president of the National Union of Teachers, said he thought the dangers of caning on the hand were very much exaggerated. If an elementary schoolteacher applied the rod to "that part of the body Nature intended to receive it," he was bound to leave a weal, and was liable to be taken before a magistrate and accused of "brutality." If they were not to cane on the hands, how were they expected to cane girls? Some girls needed corporal punishment as much as boys. What the Council schools wanted was the power to expel.
Mr. M.J. RENDALL, headmaster of Winchester, said that at his school the hand was held, as it were, sacred -- it did so many things.
Mr. J.R. ECCLES, headmaster of Gresham's School, Holt, condemned corporal punishment of any kind, and said that punishments which he employed with success in his school included making a boy play cricket when he would rather cycle, making him tidy up rooms or sweep the fives court, making him "bell fag," and making him tell his parents.
Other external links: UK school CP