The Times, London, 25 June 1920
A School Girl's Caning.
Headmaster's Explanation.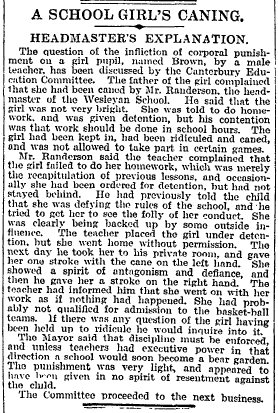 The question of the infliction of corporal punishment on a girl pupil, named Brown, by a male teacher, has been discussed by the Canterbury Education Committee. The father of the girl complained that she had been caned by Mr. Randerson, the headmaster of the Wesleyan School. He said that the girl was not very bright. She was told to do homework, and was given detention, but his contention was that work should be done in school hours. The girl had been kept in, had been ridiculed and caned, and was not allowed to take part in certain games.
Mr. Randerson said the teacher complained that the girl failed to do her homework, which was merely the recapitulation of previous lessons, and occasionally she had been ordered for detention, but had not stayed behind. He had previously told the child that she was defying the rules of the school, and he tried to get her to see the folly of her conduct. She was clearly being backed up by some outside influence. The teacher placed the girl under detention, but she went home without permission. The next day he took her to his private room, and gave her one stroke with the cane on the left hand. She showed a spirit of antagonism and defiance, and then he gave her a stroke on the right hand. The teacher had informed him that she went on with her work as if nothing had happened. She had probably not qualified for admission to the basket-ball teams. If there was any question of the girl having been held up to ridicule he would inquire into it.
The Mayor said that discipline must be enforced, and unless teachers had executive power in that direction a school would soon become a bear garden. The punishment was very light, and appeared to have been given in no spirit of resentment against the child.
Illustrated article: UK school CP
Other external links: UK school CP