Kilburn Times, London, 4 July 2007
School celebrates 100 years
(extract)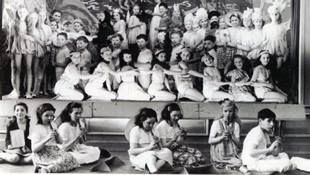 Archives on show: The exhibition at Mora School chronicles its 100 history
SEASONS come and go but one thing never changes - children will always be naughty, writes Alex Wellman.
In preparation for its big centenary birthday bash, Mora Primary School, in Mora Road, Cricklewood, is throwing open its archives for all to see.
Log books, diaries and photographs from decades throughout its past are to go on display at the school from Friday to Tuesday and the Times popped down for an exclusive peek.
The documents show past students such Sir Leon Brittan scrawled on the fading pages along with the more naughty ones on the receiving end of corporal punishment.
Records show one enterprising 11-year-old student from 1969 received two strokes of the cane for his 'third episode of blackmailing and bullying to extract money from small children.'
One teacher remarked: "They were a lot more devious back then but they all went on to great schools. The worst we get now is a bit of back chat!"
Headteacher Sue Stanley said: "The children are having a great time celebrating the birthday.
"It is a real chance for us to show what the school is like now and what we are about."
[...]
Copyright © 2007 Archant Regional Limited. All rights reserved.
---
---
Daily Mail, London, 19 July 2007
'Caning book' from 1902 is a grim lesson for truants
By Paul Sims
A pupil who skips school these days is rarely likely to receive anything more stern than a ticking off and a letter home.
After all, as every child knows, they have plenty of rights to prevent them from being dealt with too severely.
But imagine the look on the faces of today's truants if they realised that a century ago they would have been given a sound thrashing for their disobedience.
A 1902 'punishment book' has been unearthed which shows how masters at one school regularly dished out six of the best to those who misbehaved - as did many of their colleagues across the country.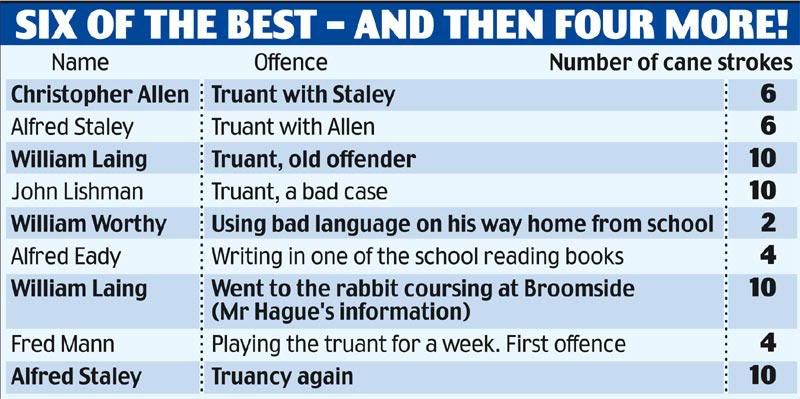 The book was found by staff at the Blue Coat junior school in Durham as they put together a potted history of its past for its 300th anniversary.
It lists the perpetrator's name, the offence and the resulting punishment.
One boy, William Laing, was dealt ten strokes of the cane after he deliberately missed classes to go rabbit coursing.
School truants Christopher Allen and Alfred Staley each received six of the best after they were caught.
For those more persistent offenders the number of times they were caned increased.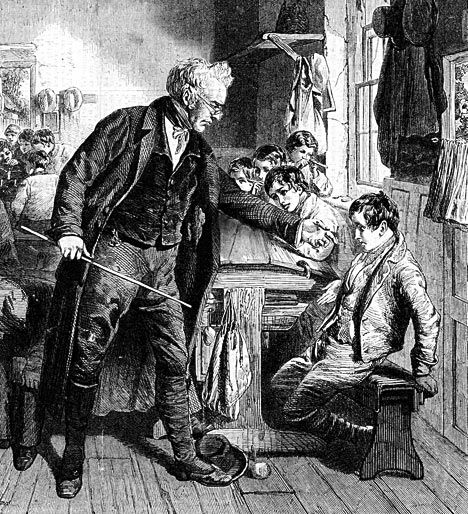 A boy about to receive the cane in this 1900 drawing
Another pupil, William Worthy, was given two strokes of the cane after he was caught 'using bad language' on his way home from school.
And spare a thought for Fred Mann, who went truant for a week. It was his first offence, yet he still received four strokes of the cane.
The disciplinary book shows just how much times have changed since the year Queen Victoria's son King Edward VII was crowned.
Blue Coat headmistress Andrea Cox said: 'The punishment book explains how children were caned for very minor misdemeanours. It makes our children appreciate how easy school days are now.
'The problem we have now with truancy is parents taking children on cheap foreign holidays.
'Parents get fined for this, but I don't know which punishment is more effective. The punishment book itself and other historical documents are fantastic for the children to see.
'In this day and age it is hard to keep children interested in reading a history book, especially with the popularity of the Horrible Histories. They have a different expectation of a history book now.
'We don't want to recreate Horrible Histories but we want to keep it interesting. We want to create a link to the past for the children.' The school, which now has more than 200 pupils, was set up in two rooms in the Bull's Head pub in Durham market place in 1708.
It moved in 1810 when land in the centre of the city was donated by the Bishop of Durham.
The foundation stone of the current building was laid on April 6, 1965. The school plans to celebrate its 300th anniversary in June next year.