Hackney Express and Shoreditch Observer, London, 6 July 1889
Hackney Board of Guardians.
Birching a Disobedient Boy.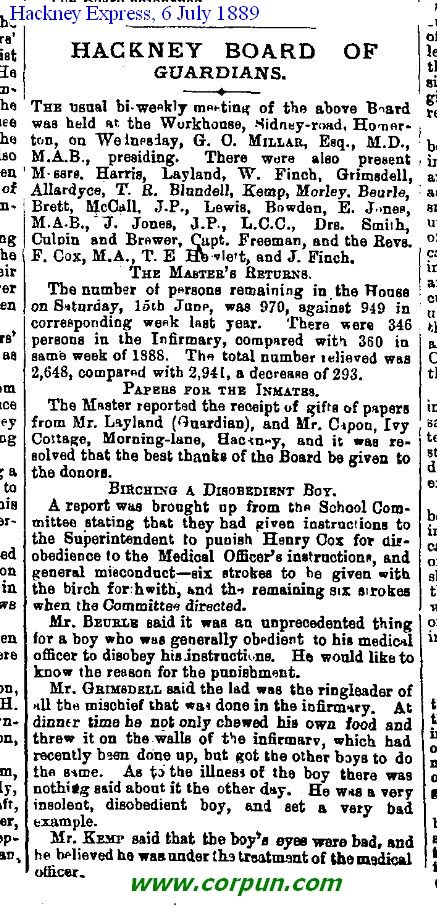 Click to enlarge
A report was brought up from the School Committee stating that they had given instructions to the Superintendent to punish Henry Cox for disobedience to the Medical Officer's instructions, and general misconduct -- six strokes to be given with the birch forthwith, and the remaining six strokes when the Committee directed.
Mr. BEURLE said it was an unprecedented thing for a boy who was generally obedient to his medical officer to disobey his instructions. He would like to know the reason for the punishment.
Mt. GRIMSDELL said the lad was the ringleader of all the mischief that was done in the infirmary. At dinner time he not only chewed his own food and threw it on the walls of the infirmary, which had recently been done up, but got the other boys to do the same. As to the illness of the boy there was nothing said about it the other day. He was a very insolent, disobedient boy, and set a very bad example.
Mr. KEMP said that the boy's eyes were bad, and he believed he was under the treatment of the medical officer.
Overview: Corporal punishment in UK institutions
Other external links: CP in reformatories and institutions