Corpun file 25508 at www.corpun.com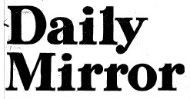 Daily Mirror, London, 4 March 1963, p.11
Dartmoor birch ban attacked
Click to enlarge
HOME secretary Henry Brooke was attacked yesterday over his "reprieves" for two Dartmoor prisoners sentenced to birching.
Mr. Harley Cronin, general secretary of the Prison Officers' Association, said: "These prisoners violently assaulted two prison officers and were sentenced to a birching.
"But Mr. Brooke, instead of upholding the visiting magistrates' punishment, has decided to send the men to a psychiatrist.
"This is a most ill-considered decision. It betrays a lack of knowledge of prison conditions.
"If prisoners think they can get away with a visit to a psychiatrist instead of a thrashing every time they attack prison officers, then this could easily lead to further violent disturbances at Dartmoor and other prisons."
Article: Judicial and prison CP in Britain
Other external links for prison CP
Judicial/prison CP pictures: United Kingdom