Corpun file 25507 at www.corpun.com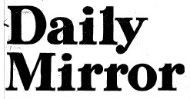 Daily Mirror, London, 30 May 1962, p.13
Small-boy birching for thug
By Tom Tullett
Chief of the Mirror Crime Bureau
BURLY Frank Mitchell calls himself the "Big Shot." But yesterday he was given the "small-boy" treatment in the jail where he is serving a life sentence for robbery with violence.
Mitchell, 33, was birched on his backside fifteen times for making two attacks on Hull prison officers.
The Home Office said: "This treatment is designed to reduce the stature of the prisoner to that of a naughty boy."
Visiting magistrates passed the birching sentence on Mitchell for "inflicting gross personal violence" on warders.
In a statement after the birching the Home Office said that Mitchell and seven other prisoners escaped from their cells on April 23.
Mitchell grabbed a truncheon from one warder and attacked another with it.
'Broke'
The statement went on: "He hit him across the face so hard that the truncheon broke. The officer suffered a broken nose, injuries to his left eye and several cuts over the eye."
Click to enlarge
Mitchell attacked the second warder on May 13.
He grabbed him by the throat and slashed him on the face with a sharpened tin knife.
Mitchell got his life sentence after terrorising an elderly couple during a two-day escape from Broadmoor institution in 1958.
The year before he escaped from Rampton institution, Notts, with another man.
Armed with axes they terrorised a widow after breaking into her home.