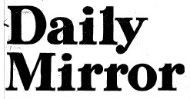 Daily Mirror, London, 9 June 1954
6 await verdict in gaol
By 'Daily Mirror' Reporter
SIX prisoners are waiting at a gaol today to hear if any of them is to get the "cat."
The men, alleged ringleaders of the mutiny at Wandsworth a fortnight ago, when five warders were hurt, faced a panel of five visiting magistrates at the gaol yesterday.
The magistrates, whose findings will not be made known for some days, can advise the Home Secretary to inflict the "cat" for attacks on warders.
They can order without referring to the Home Secretary, solitary confinement, bread-and-water diet, loss of remission, privileges or pay.
At the hearing yesterday, the injured warders gave their evidence on oath in a grim room in the administrative block.
The five magistrates sat at a large oak table and the prisoners, with their escort of warders, stood behind a four-foot iron railing.
---
Follow-up: 7 July 1954 - Prison mutiny men get 'cat'
Article: Judicial/prison corporal punishment in Britain