Corpun file 25502 at www.corpun.com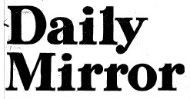 Daily Mirror, London, 2 May 1961, p.28
Birch them, says the top judge
Challenge to Butler?
By Victor Knight
Click to enlarge
A THREAT loomed last night of a serious clash between the Lords and Commons over the demand by a number of Tories to bring back flogging.
During a debate in the House of Lords it became clear that many Tory peers are likely to follow the lead given by LORD PARKER, the Lord Chief Justice, who demanded that young criminals should be birched or caned.
Lord Parker was speaking on the Government's Criminal Justice Bill, which proposes a new system of detention centres for young offenders.
Tory cheers
There were cheers from Tory peers when he argued that instead of being given long sentences, young criminals should be given corporal punishment and a short period of detention.
"I care not whether it takes the form of caning or birching," Lord Parker told the House. "Both have the element of indignity which these young people fear.
"I care not whether it applies to all offences, or whether it is made to apply merely to those which involve grave personal violence.
"It certainly should not be given automatically, but only as a matter of discretion, and it should be capable of being imposed coupled with other penalties."
Defiance
During a later stage of the Bill, Lord Parker's supporters may try to include in it a provision to allow courts to order flogging.
It is quite possible that they will succeed, despite opposition from the Government and the Labour Party.
This would place Mr. R.A. Butler, the Home Secretary, in an extremely awkward situation.
It would mean that the issue would have to come back to the Commons, where a large number of Tory MPs are opposed to Mr. Butler's "no flogging" policy.
A few weeks ago, sixty-nine Tory MPs defied their Party leaders by voting for corporal punishment. If the House of Lords insert a provision for flogging into the Bill, the rebels may gain greater support.
Last night's debate in the Lords provided at least one crumb of comfort to Mr. Butler.
LORD DENNING, a Lord of Appeal, came out strongly against flogging.
He said the present system of detention centres and Borstals was far better than the "haphazard, delayed and unfortunate system of corporal punishment."
Lord Denning said he had been a judge long enough to be one of those who had imposed corporal punishment. Rightful infliction of it by a headmaster or parent was very different from a judicial sentence, which was delayed and impersonal.
The Bill was given an unopposed Second Reading.