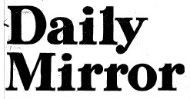 Daily Mirror, London, 29 February 1956
Bring back the birch, say 4 M.P.s
Daily Mirror Reporter
FOUR back-bench Tory M.P.s tabled a Parliamentary motion last night calling for the birching of violent criminals.
Birching was abolished with other forms of corporal punishment in 1948, except in the case of prisoners who attacked warders.
The M.P.s are Mr. John Barter (Ealing, N.), Mr. G.W. Lagden (Hornchurch), Mr. Norman Pannell (Kirkdale) and Mr. J.C. Jennings (Burton). Their motion says: "Many young people ... will be deterred from violent crimes" by the birch.
It asks for the restoration of the birch as punishment for crimes of violence.
Article: Judicial corporal punishment in Britain