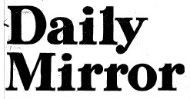 Daily Mirror, London, 6 May 1954
'24,000 reasons for a flogging'
THERE are "24,000 reasons" why thugs should be flogged, a conference was told yesterday.
And, against the advice of their Executive, the National Federation of Sub-Postmasters passed a resolution calling for the return of the "cat".
It was a man who has been coshed, Mr. Arthur Findley, 48, sub-postmaster at Potters Bar, Middlesex, who demanded the return of the "cat."
He told the 300 delegates at the Federation's annual meeting at Scarborough, Yorks. how thugs attacked him last July.
When the Executive opposed his resolution Mr. Findley snapped back: "There are 24,000 reasons why this should be supported.
"Every one of Britain's 24,000 sub-postmasters is a potential victim ...."
He told the hushed delegates: "Sub-postmasters all over the country have been threatened and shot at by thugs."
He rubbed in his argument with a detailed list of attacks on the men and women behind the counters of Britain's little post offices.
The "bring back the cat" resolution was carried by a big majority.