Corpun file 25189 at www.corpun.com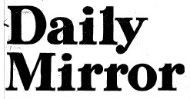 Daily Mirror, London, 11 July 1947, p.1
Woman magistrate who had boys birched starts row: 'It's back to barbarism,' says colleague
A WOMAN magistrate who yesterday ordered birching for two boys -- one a first offender -- was criticised by fellow-magistrates in Manchester last night.
Mrs. Eleanor Kershaw, a vicar's daughter, presiding over Old Trafford, Manchester, Bench, told the boys, brothers aged ten and eleven, they would each get six strokes for stealing money and property worth £3 10s.
And because such a sentence had not been imposed for fifteen years and there was no rod in stock, the police made one by cutting twigs from trees in an avenue and binding them together.
Mrs. Alice Titt, senior woman magistrate for the Manchester County area, telephoned the clerk and some of her fellow magistrates on hearing of the decision.
And as a result an emergency meeting of the county magistrates may be called.
Mrs. Titt told a reporter last night: "A number of magistrates are strongly opposed to birching.
"I do not want to see a return to a Dickensian England. We are going back to the barbarism which most of us hoped we had left behind."
"Gangsters of Tomorrow"
"We have enough tough guys already. I believe birching today makes us the gangsters of tomorrow."
Click to enlarge
Defending the sentence, Mrs. Kershaw told the Daily Mirror: "Magistrates are tired -- I'm not the only one -- of putting people on probation.
"Things have got to such a pitch that unless a person is punished by some physical hurt it won't do any good."
Mr. W.P. Crowe, sitting in court with Mrs. Kershaw, agreed with her decision.
He said last night: "The father of the boys was in court and presumably the police would have told him of his right to appeal before the sentence was carried out."
Mr. John Watson, London magistrate, told the National Federation of Women's Institutes conference at Liverpool yesterday of a birched boy who went round his district and -- for a small fee -- took down his pants and showed his stripes.
---
Corpun file 6383 at www.corpun.com
Evening News, London, 11 July 1947
10 Year-old: 'I Hate Them All': Family 'Blazing'
Father of Birched Boy Wants Inquiry
Wires M.P. - 'See Ede'
By "Evening News" Reporter
Click to enlarge
THE father of the two boys each ordered a maximum sentence of six strokes of the birch at the Manchester County Juvenile Court yesterday wants the Home Secretary to order a public inquiry.
He has sent a telegram to Mr. H.L. Austin, M.P. for Stretford, saying:
"Please ask Home Secretary order public inquiry into birching of my two sons, one a first offender aged ten. I protested but was never told I had the right to appeal."
The boys were ordered to be birched for breaking into a garage and theft.
To-day the father said: "I hope the Home Secretary will go fully into the case, because I believe it to be very wrong that a ten-year-old boy should receive the maximum sentence of birching for a first offence, and a boyish prank at that.
"I protested in court yesterday and told the magistrates that I had already administered adequate punishment to the boys. Had I been aware that I had such a right I would most certainly have appealed."
The boy's 22-year-old brother, home to-day from the Merchant Navy, said: "We are all blazing.
"Extremely Severe"
"The two boys were taken in a police car to the police station, where my 18-year-old brother, on Army embarkation leave, had to witness the punishment.
"He tried to intervene, but was prevented by police officers. The punishment was extremely severe, and the police compelled the boys to walk home immediately afterwards.
"Both the boys have been sick this morning, and the younger one seemed much too poorly to get up," he added.
The 10-year-old boy said: "I don't know what it is supposed to do. It certainly doesn't make you feel like being good. I hate the lot of them."