Corpun file 21637 at www.corpun.com

The Times, London, 17 November 1932, p.9
Shooting gallery incident
Sentence for theft of firearms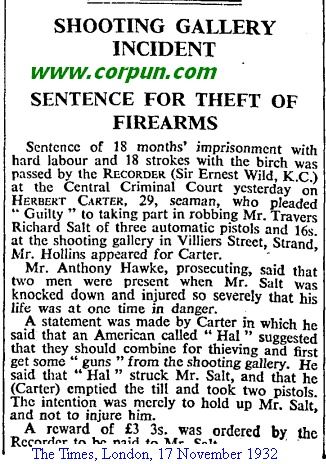 Click to enlarge
Sentence of 18 months' imprisonment with hard labour and 18 strokes with the birch was passed by the RECORDER (Sir Ernest Wild, K.C.) at the Central Criminal Court yesterday on HERBERT CARTER, 29, seaman, who pleaded "Guilty" to taking part in robbing Mr. Travers Richard Salt of three automatic pistols and 16s at the shooting gallery in Villiers Street, Strand. Mr. Hollins appeared for Carter.
Mr. Anthony Hawke, prosecuting, said that two men were present when Mr. Salt was knocked down and injured so severely that his life was at one time in danger.
A statement was made by Carter in which he said that an American called "Hal" suggested that they should combine for thieving and first get some "guns" from the shooting gallery. He said that "Hal" struck Mr. Salt, and that he (Carter) emptied the till and took two pistols. The intention was merely to hold up Mr. Salt, and not to injure him.
A reward of £3 3s was ordered by the Recorder to be paid to Mr. Salt.
---
---
Corpun file 21638 at www.corpun.com

The Times, London, 24 November 1932, p.9
Armed robbers sentenced
Brave woman rewarded by Recorder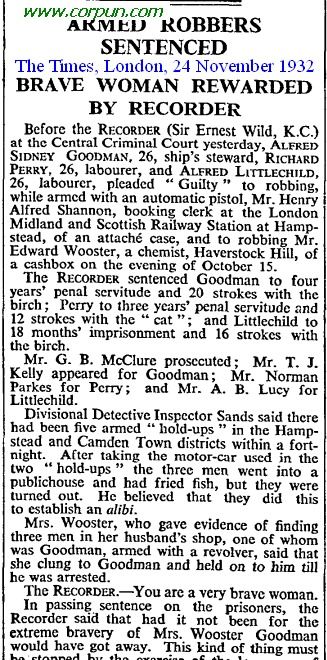 Click to enlarge
Before the RECORDER (Sir Ernest Wild, K.C.) at the Central Criminal Court yesterday, ALFRED SIDNEY GOODMAN, 26, ship's steward, RICHARD PERRY, 26, labourer, and ALFRED LITTLECHILD, 26, labourer, pleaded "Guilty " to robbing while armed with an automatic pistol, Mr. Henry Alfred Shannon, booking clerk at the London Midland and Scottish Railway Station at Hampstead, of an attaché case, and to robbing Mr. Edward Wooster, a chemist, Haverstock Hill, of a cashbox on the evening of October 15.
The RECORDER sentenced Goodman to four years' penal servitude and 20 strokes with the birch; Perry to three years' penal servitude and 12 strokes with the "cat"; and Littlechild to 18 months' imprisonment and 16 strokes with the birch.
Mr. G.B. McClure prosecuted; Mr. T.J. Kelly appeared for Goodman; Mr. Norman Parkes for Perry; and Mr. A.B. Lucy for Littlechild. Divisional Detective Inspector Sands said there had been five armed "hold-ups" in the Hampstead and Camden Town districts within a fortnight. After taking the motor-car used in the two "hold-ups" the three men went into a public house and had fried fish, but they were turned out. He believed that they did this to establish an alibi.
Mrs. Wooster, who gave evidence of finding three men in her husband's shop, one of whom was Goodman, armed with a revolver, said that she clung to Goodman and held on to him till he was arrested.
The RECORDER. -- You are a very brave woman.
In passing sentence on the prisoners, the Recorder said that had it not been for the extreme bravery of Mrs. Wooster Goodman would have got away. This kind of thing must be stopped by the exercise of the long arm of the law. Littlechild was believed to be the least of the three offenders, and he (the Recorder) believed that.
The Recorder directed that rewards of £2 should be paid to Mr. Shannon, to Mr. Skinner, a railway porter, and to Mr. Walker, who assisted in the arrest of Goodman, and that a reward of £5 should be paid to Mrs. Wooster.
Article: Judicial CP in the United Kingdom