The Times, London, 15 June 1932
Armed Youth Chased By Schoolmaster
Police Officer's Death From Shock
Click to enlarge
Before the Recorder (Sir Ernest Wild, K.C.) at the Central Criminal Court yesterday, WILLIAM GREENWOOD, 21, french polisher, and STANLEY SHRODINSKY, 16, cabinet maker, pleaded "Guilty" to an indictment charging them with, while armed with offensive weapons, namely, two revolvers, robbing Mr. John George Brown of the sum of £1 10s.
The RECORDER ordered Greenwood to be sent to a home for mental deficients. He sentenced Shrodinsky to eight months in a boy's prison and 18 strokes with the birch.
Mr. A.B. Lucy prosecuted; Mr. Garth Moore appeared for the defence.
Mr. Lucy said that on May 4 the two youths entered a tobacconist's shop at Tooting, presented revolvers at John George Brown, the proprietor, at the same time telling him to "Stick them up." They then robbed the till of 30s, and escaped. One of the weapons fired blank cartridges, but the other had been filed in such a way that it could fire live cartridges. On May 7, the defendants broke into a shop in Sutton and stole a quantity of cigarettes. On May 8, at midnight, Police-sergeant Burge, of Sutton, saw the defendants with an attaché case containing a hacksaw and other tools. He seized Greenwood, pinned him against a wall, and took a revolver from his hip pocket. Shrodinsky pointed a revolver at the officer and ran away. Sergeant Burge called to a civilian to pursue him, and Vivian Howell, a schoolmaster at Morden, chased him on a bicycle which was standing near. Shrodinsky pointed a revolver at Mr. Howell and fired twice. Nothing daunted, Mr. Howell continued the pursuit, threw the bicycle at Shrodinsky, and ultimately captured him.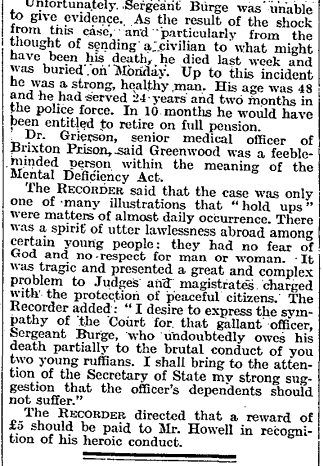 Click to enlarge
Unfortunately, Sergeant Burge was unable to give evidence. As the result of the shock from this case, and particularly from the thought of sending a civilian to what might have been his death, he died last week and was buried on Monday. Up to this incident, he was a strong healthy man. His age was 48 and he had served 24 years and two months in the police force. In 10 months he would have been entitled to retire on full pension.
Dr. Grierson, senior medical officer of Brixton Prison, said Greenwood was a feeble-minded person within the meaning of the Mental Deficiency Act.
The Recorder said that the case was only one of many illustrations that "hold ups" were matters of almost daily occurrence. There was a spirit of utter lawlessness abroad among certain young people; they had no fear of God and no respect for man or woman. It was tragic and presented a great and complex problem to judges and magistrates charged with the protection of peaceful citizens. The Recorder added, "I desire to express the sympathy of the court for that gallant officer, Sergeant Burge, who undoubtedly owes his death partially to the brutal conduct of you two young ruffians. I shall bring to the attention of the Secretary of State my strong suggestion that the officer's dependents should not suffer."
The Recorder directed that a reward of £5 should be paid to Mr. Howell in recognition of his heroic conduct.
---
---

The Times, London, 17 June 1932, p.11
News in Brief
Youths ordered prison and the birch
Click to enlarge
Before the Recorder (Sir Ernest Wild, K.C.) at the Central Criminal Court yesterday, HARRY GOLD, 20, salesman, and PHILIP GOLD, 16, salesman, pleaded "Not Guilty" to an indictment charging them with breaking and entering the Locarno Dance Hall, Streatham, and stealing therein £608 10s. 6d., and with robbery while armed and robbery with violence on Mr. William Fox. The jury found the prisoners Guilty. The Recorder sentenced Harry Gold to 20 months' imprisonment and 24 strokes with the birch, and Philip Gold to 14 months' imprisonment and 18 strokes with the birch. Mr. G.D. Roberts and Mr. G.B. McClure prosecuted for the Director of Public Prosecutions; Mr. Louis Green appeared for the defence.
Article: Judicial CP in the United Kingdom