The Times, London, 31 January 1923
Central Criminal Court.
Recorder On The Punishment Of Flogging.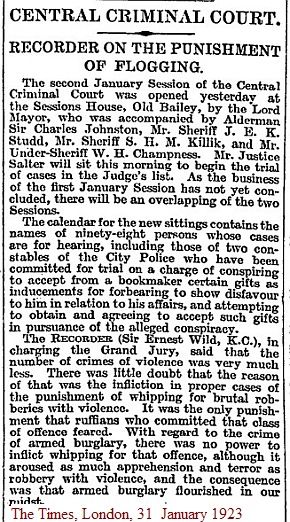 Click to enlarge
The Second January Session of the Central Criminal Court was opened yesterday at the Sessions House, Old Bailey, by the Lord Mayor, who was accompanied by Alderman Sir Charles Johnston, Mr. Sheriff J.E.K. Studd, Mr. Sheriff S.H.M. Killik, and Mr. Under-Sheriff W.H. Champness. Mr. Justice Salter will sit this morning to begin the trial of cases in the Judge's list. As the business of the first January Session has not yet concluded, there will be an overlapping of the two Sessions.
The calendar for the new sittings contains the names of ninety-eight persons whose cases are for hearing, including those of two constables of the City Police who have been committed for trial on a charge of conspiring to accept from a bookmaker certain gifts as inducements for forbearing to show disfavour to him in relation to his affairs, and attempting to obtain and agreeing to accept such gifts in pursuance of the alleged conspiracy.
The RECORDER (Sir Ernest Wild, K.C.), in charging the Grand Jury, said that the number of crimes of violence was very much less. There was little doubt that the reason of [sic] that was the infliction in proper cases of the punishment of whipping for brutal robberies with violence. It was the only punishment that ruffians who committed that class of offence feared. With regard to the crime of armed burglary, there was no power to inflict whipping for that offence, although it aroused as much apprehension and terror as robbery with violence, and the consequence was that armed burglary flourished in our midst.
Article: Judicial corporal punishment in Britain
Other external links for UK JCP