Shoreditch Observer and Hackney Express, London, 19 September 1908
North London.
Boy Chapel-Breakers.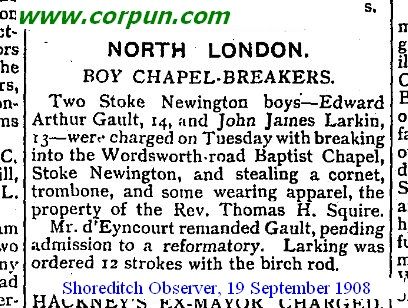 Click to enlarge
Two Stoke Newington boys -- Edward Arthur Gault, 14, and John James Larkin, 13 -- were charged on Tuesday with breaking into the Wordsworth-road Baptist Chapel, Stoke Newington, and stealing a cornet, trombone, and some wearing apparel, the property of the Rev. Thomas H. Squire.
Mr. d'Eyncourt remanded Gault, pending admission to a reformatory. Larking [sic] was ordered 12 strokes with the birch rod.
Article: Judicial corporal punishment in Britain