Daily Mail, London, 14 August 1975
Stable joy-riders whipped
And I was right, says woman fined £350
Daily Mail Reporter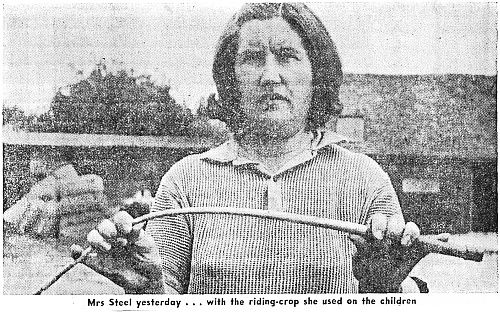 A WOMAN who pioneered horse-riding lessons for handicapped children was fined £350 yesterday for lining up seven other children in her farmyard and hitting them with a riding whip.
Mrs Audrey Steel, 39, disciplined the seven because they were larking about on a tractor.
After being fined by magistrates at Redditch, Worcestershire, she said: 'I still think I was perfectly justified in what I did.'
In court, Inspector James Cole, prosecuting, said Mrs Steel found a group of children riding on the tractor in a field known as The Gallops.
'She told them to get off the tractor and screamed at them to run up to the farmyard.
'There she lined them up, made them bend over, and hit them on the buttocks or legs with a riding-crop,' said Mr Cole.
Laughing
He showed the magistrates photographs of weals on the buttocks and legs of a 14-year-old girl and two boys aged 11 and 14.
Mrs Steel told them she was whipping them for ruining good mowing grass. The others involved were a boy of 15 and two of 14.
Mrs Steel hit them all a second time when she thought some of them were laughing.
'After this, three children tried to leave but were fetched back and given further punishment.'
Mr David Wright, defending, said Mrs Steel taught many children to ride and was known to be kind but would stand no nonsense. She had pioneered riding lessons for mentally and physically handicapped children at her Broad Close Farm, Inkberrow, Worcestershire.
Click to enlarge
'What Mrs Steel saw at The Gallops made her physically sick.
'The tractor had been driven higgledy-piggledy round the field, damaging mowing-grass worth about £60.
'But the risk to human life was what caused Mrs Steel the greatest concern.
'Children were riding in a box fitted to the back of the tractor, and two more were "ski-ing" across the grass standing on sacks tied to the box. The tractor could have reared up, causing injury or death,' said Mr Wright.
Later, Mrs Steel said her own son, Anthony, 15, was involved and she 'leathered' him hardest of all. But she was not charged with assaulting him.