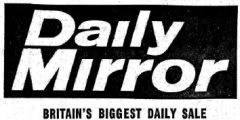 Daily Mirror, London, 20 September 1967
The caning vicar
Our Man at St Mark's Whacks 'Em
By Brian McConnell
A REAL-LIFE man at St. Mark's is helping parents out ... by caning naughty children.
People call at the Rev. Donald Pateman's vicarage at Dalston in the East End and say: "We want you to give our son a good caning, vicar."
And the vicar obliges.
Yesterday, 52-year-old Mr. Pateman explained:
"I believe in short, sharp punishment. So do the boys who attend my church.
"We have a system of detention, but the boys often come to me and say: 'Can't I have a bender instead sir?'
"They prefer the cane. They get it over with and they are then perfectly happy."
About 250 children attend Mr. Pateman's church, St. Mark with St. Bartholomew, and he uses his cane "not more than twice a week."
The vicar added: "I do not think I would attempt this caning in a parish outside the East End, where they are tough, but where they respond to discipline."
Refused
"In twenty years in the East End I have never known a child resent being caned.
"The greatest punishment a child can have is to be refused permission to come to church, not to be caned."
More of Mr. Pateman's views on caning are set out in the current issue of his parish magazine.
Commenting on the order to close Court Lees Approved School, after reports of excessive caning there, he writes:
"For several years the office of Home Secretary of this State has been occupied by old maids of the male sex. Perhaps we have never had such a purring old tabby as the present Home Secretary, Roy Harris Jenkins."
The article says that the boys punished are given "a hander or two from the vicar's cane," and speaks of "the great benefits to be derived by naughty boys from a walloping kindly yet firmly administered."
What sort of offences bring down a caning on the culprits?
The magazine says: "The children are not thugs, but ordinary, healthy, naughty little perishers who drop a stink bomb at choir practice and 'accidentally' drop a spud gun which goes off and hits someone in the eye."
Mr. Pateman describes his church as "Victorian in architecture, Victorian in outlook."
Other examples of his "Victorian" outlook:
He once threatened to work to rule, if asked to marry striking busmen, by banning bells, choir and organ.
And too-short mini-skirts are banned from his vicarage.