Corpun file 24322 at www.corpun.com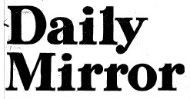 Daily Mirror, London, 21 September 1948, p.3
The Church's "little bully" was defiant
"Spoilt choirboy gets £9 for cuff on the ear
Click to enlarge
CHOIRBOY Rodney Fitzsimmons, 13, jostled his way to the robing cupboard after a Sunday evening service at Christ Church, Southport (Lancs).

And as he went along, he dug his elbows into the smallest boy, aged eleven.

Senior choirman Thomas Hodge told him off about it. Choirboy Fitzsimmons was defiant. So choirman Hodge cuffed him over the ear.

For that cuffing, he was told by Judge Fraser Harrison at the local county court yesterday, he must pay £9 damages and costs.

But the judge called choirboy Fitzsimmons "a little bully."
Wrong Method
"This boy is thoroughly spoilt," he commented.

"If Mr. Hodge had chastised him in the proper place he would have got the thanks of the whole congregation and my approval.

"Mr. Hodge should have used the palm of his hand on a proper spot about half-way down his body at the back.

"He is guilty of an assault because he did not adopt the proper method," said the judge.

The cuffing, it was claimed, set up ear trouble.

Fitzsimmons, according to the choirmaster, was usually the instigator of any trouble.
Country files: United Kingdom CP
Other external links for UK domestic spanking
Archive up to 1975: Corporal punishment in the United Kingdom