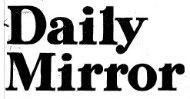 Daily Mirror, London, 9 January 1953
'Caning' colonel is reprimanded
Soldier says: I cried -- I ate standing up
(extracts)
AFTER a court-martial lasting five and a half hours, a colonel was last night sentenced to a severe reprimand, and two years' loss of seniority, for caning his batman.
Outside the court-room at London's Chelsea Barracks, when it was all over, Lieutenant-Colonel Edward Trusler, 39, smiled at waiting fellow-officers and said: "That is that. I am an Army officer, and to me the Army is still everything."
'Bend Over'
Eighteen-year-old Gunner Robert Littlewood, now stationed at Perham Down, near Tidworth, Hants, told the court about the canings, which took place at the RE Port of London Embarkation Establishment at Purfleet, Essex.
This, said Littlewood, was how the first caning took place --
Colonel Trusler complained about the condition of his (Littlewood's) trousers, and ordered him to take them off. He examined them and told him to put them on again.
"Then" said Littlewood "he said: 'Bend over.'
"I did. He caned me with his swagger cane twelve times.
"I felt it to such an extent that it made my cry."
He stood up for his mid-day meal that day because his buttocks were sore.
Coming to the second caning Littlewood said:
He was marched in to see Colonel Trusler after being absent without leave.
Colonel Trusler, said Littlewood, "picked up a cane and said: 'You are going to feel this.'
"He told me to drop my trousers. I dropped them and he gave me six strokes on my buttocks. There was nothing covering me and it made me cry."
Mr. Fearnley Whittingstall, Q.C. (defending Colonel Trusler) read from Littlewood's conduct sheet and asked: "There is nothing much to be proud of in that, is there?" Littlewood replied: "No."
'An Orphan'
Littlewood agreed that he told Colonel Trusler that he was an orphan, brought up in an orphanage, but denied that the "traded on it."
He agreed that while absent without leave a second time, he stole some women's clothing.
Mr Fearnley Whittingstall: You are a liar, a cheat and a thief?
Littlewood: No, sir -- but I admit I am a thief.
[...]
---
Daily Mail, London, 9 January 1953
CO on clean-up caned his batman
The colonel made me cry, I ate next meal standing -- Orphan aged 18
By Daily Mail Reporter
(extracts)
A 39-year-old lieutenant-colonel, flown home from Hongkong to clear up the "thieving and scrounging" rife at a Royal Engineers embarkation camp at Purfleet, Essex, admitted at a Chelsea court-martial yesterday that he gave his 18-year-old batman two canings.
The officer, Major (temporary Lieutenant-Colonel) Edward Shirley Trusler, O.B.E., was found guilty of conduct to the prejudice of good order and military discipline by improperly caning Gunner R. Littlewood. He was found not guilty of ill-treating Littlewood.
He was sentenced to lose two years' seniority and to be severely reprimanded. The findings and sentence are subject to confirmation.
As a father
[...]
Colonel Trusler said in evidence that he told Littlewood he would try to act as a father towards him. Littlewood seemed "very pleased" at this.
Asked why he administered the canings, Colonel Trusler said: "I thought it was the most effective way of bringing Littlewood to his senses."
Lieut.-Colonel G.A. Whiteley, prosecuting, said that soon after Littlewood's arrival at Purfleet Colonel Trusler explained to him that if ever he appeared before him on a charge, instead of dealing with him in the ordinary way, he would cane him.
'Untrue'
"In the course of his explanation, the colonel picked up a cane and told the soldier to bend over," Colonel Whiteley went on. The colonel laid the cane gently across him, but did not hit him.
"When the soldier stood erect again the colonel explained to him that next time he would feel it. So much for Gunner Littlewood's introduction to the accused."
Replying to Mr. W.A. Fearnley-Whittingstall, Q.C., defending, Colonel Trusler, married with one child, said it was "completely untrue" that when he first saw Littlewood he waved a cane at him or said anything to the effect that if he came before him on a charge he would cane him.
Honoured
Colonel Trusler said he was awarded the O.B.E. in the Birthday Honours in June, 1952, for "very outstanding service as port commandant, Hong Kong."
Prosecuting and defending officers both referred to "appalling" conditions at Purfleet Camp before Colonel Trusler was selected, as a strong disciplinarian, to command the unit.
[...]