Taipei Times, 19 March 2007
Caning for sex offenders: DPP
TOUGH MEASURES: DPP Legislator Hsueh Ling said she will publish the names of presidential contenders who do not support a proposed amendment to the law
By Flora Wang
Staff Reporter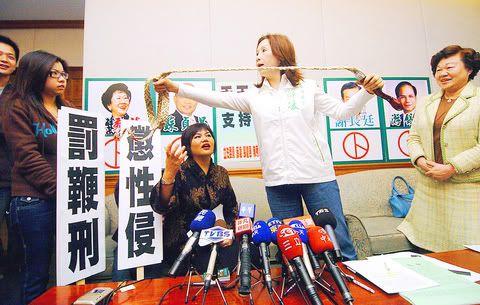 Democratic Progressive Party Legislator Hsueh Ling holds up a whip at a press conference yesterday, where she called for the inclusion of caning as punishment in the Prevention of Sexual Offenses Act.
PHOTO: LO PEI-DER, TAIPEI TIMES
Several Democratic Progressive Party (DPP) legislators yesterday urged presidential hopefuls to endorse a proposed amendment that would allow for the caning of sex offenders.
At a press conference in the legislature yesterday, DPP Legislator Hsueh Ling demanded that presidential contenders declare their stance toward the proposed amendment immediately.
She also called on lawmakers to back an amendment to the Sexual Assault Prevention Law that includes the provision on caning.
She said she would publicize the names of presidential contenders who did not back the amendment, adding that she hoped it would pass cross-party negotiations this week.
"The future leader of the nation has to respect Taiwanese women," she said. "I will mobilize women's groups to boycott any national leader who does not respect women and does not endorse this important legislation, which aims to intimidate sexual predators."
The proposal came after the police arrested two suspects allegedly involved in the rape of a medical student on March 11. The suspects are believed to have abducted the student as she was walking near Shilin Night Market in Taipei.
One of the suspects is also suspected of having raped a female taxi driver before his capture on Saturday morning.
Although police broke the case in five days, many women have doubts about the safety of Taiwanese society because the two suspects abducted their victim from a city street, Hsueh said.
DPP Legislator Chang Ching-hui, who was at the press conference, said the number of reported sexual assault cases over the past few years grew 15 percent annually according to statistics from the Ministry of the Interior.
"Last year alone, 5,638 cases were reported. About 60 percent of the victims were minors and the youngest victim was only three," she said.
Chang said Taiwan should emulate Florida's "Jessica's Law" and introduce severe punishments for malicious or serial sex offenders.
Jessica's Law was passed in Florida in 2005 after a young girl named Jessica Lunsford was raped and killed by a previously convicted sex offender.
The law was introduced amid public outrage as a result of the case, and mandates at least 25-years of prison and lifetime electronic monitoring for convicted sexual predators. Forty-two out of the 50 US states have introduced similar legislation since the passage of the law.
DPP Legislator Chen Shui-hui, who joined the proposal, said sex offenders should be given a "taste of their own medicine" by undergoing caning.
Copyright © 1999-2007 The Taipei Times. All rights reserved.
---
China Post, Taipei, 30 March 2007
MOJ to consider caning for sex offenders
The China Post staff
The Ministry of Justice (MOJ) has agreed to call a new meeting in a month to reconsider imposing caning on convicted sex offenders, although most officials of the ministry think flogging is inhumane and will not solve the sexual assault problem.
The MOJ will also discuss a suggestion to shorten the observation period for requiring some paroled sex offenders to wear the electronic monitoring bracelets to two weeks from the current three-month period.
Responding to questions raised by legislators, Justice Minister Shih Mao-lin said a meeting will be held to solicit the views of experts and to discuss whether caning should be introduced into the country's judicial system as a form of punishment to be used on convicted criminals, particularly rapists.
Major considerations will be based on diverse factors, including human rights protection and social values,
Shih made the remarks in response to a suggestion last week by several legislators that serial rapists should be caned in addition to serving prison terms.
The legislators made the suggestion in the wake of the arrest of two men suspected of gang raping a medical school coed after abducting her from the outside the Jiantan Station of the mass rapid transit (MRT) network in Shilin in the wee hours of March 11.
One of the suspects, Lin Shih-chieh, is also suspected of having robbed and raped a female taxi driver over 60 years old just hours prior to his arrest on March 17.
Another woman driver in Taipei came out yesterday to identify Lin as the perpetrator who raped her.
She also revealed to police that Lin and members of his gang broke into an apartment on Tonghua Street in Eastern Taipei two weeks ago and made away with some jewelry and cash.
Minister Shih told the lawmakers that caning is a form of punishment that has been gradually discarded in democratic societies.
The MOJ already conducted discussions in the past on the issue of if caning should be introduced into Taiwan's judicial system. But the ministry reached the conclusion of not adopting flogging as a form of penalty.
Caning was a common punishment in many parts of Middle East and Africa, Asia and Europe and several European colonies in the 19th and early 20th century.
While many countries consider it cruel, inhumane and degrading, caning is still used in Singapore, Malaysia and Brunei as well as Middle Eastern and some African countries.
"Caning is a physical punishment. In the process of democracy, caning has been gradually excluded. Regarding whether we should introduce caning, we have to consider public opinion, experts' opinion and human rights," Minister Shih told the parliament.
"We discussed this issue several years ago, but there was opposition," he said.
Some women's organizations are also against caning, saying using violence against violence will not eradicate the sexual assault problem.
MOJ officials noted that there are relatively low sex offense rates in both Singapore and Japan, which does not adopt caning.
It is not due to whether a country implements caning or not. The key factor lies in the people's law-abiding spirit in both nations, while many senior officials and even those in the judicial system in Taiwan often commit felonies themselves, the officials explained.
The new regulations in Taiwan require some paroled sex offenders to wear the electronic tracking bracelets only in November 2006, but Democratic Progressive Party (DPP) lawmaker Hsueh Ling said this is not enough.
The MOJ decided last November to attach electronic detectors to the wrists of convicted rapists released on parole to monitor their movements around the clock.
However, the bracelets will be used only after an "assessment period" of three months following a rapist's release on parole, according to the MOJ program.
Some lawmakers have questioned the appropriateness of the three-month "assessment period," with opposition Kuomintang Legislator Lo Shih-hsiung claiming that it could put people at risk of falling prey to habitual offenders during the period.
Minister Shih said the MOJ will decide within a month on whether the three-month assessment period for electronic monitoring of convicted rapists released on parole should be shortened to two weeks.
Copyright © 2007 The China Post. All rights reserved.
---
Follow-up: 2 May 2007 - MOJ opposes caning for sex offenders