Trinidad & Tobago Express, Port of Spain, 30 May 2009
25 years, 10 strokes for cutlass attack
By Keino Swamber
South Bureau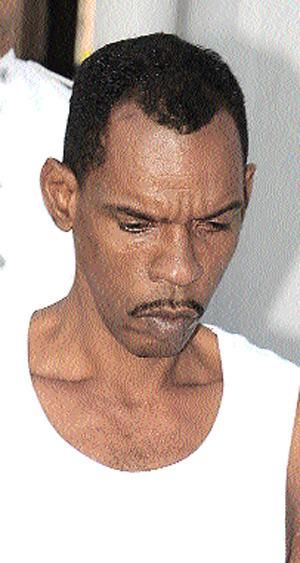 NO EMOTION: Horace Jackson
IN addition to spending 25 years in prison with hard labour, Horace Jackson will also receive 10 strokes with the birch for attempting to murder his ex common-law wife, Tricia St John, whose left hand he chopped off in a vicious attack with a cutlass five years ago.
The act was committed in full view of their sons, who were then nine and 11 years old.
Jackson exhibited no sign of emotion when the sentence was passed yesterday. But Anne Ryan, his current common-law wife, told reporters that Jackson's case was not "put across properly".
St John, a 33-year-old author who has written two books about her experience and started a third last week, was not in the San Fernando Third Assize Court when sentence was passed.
Before sending Jackson to jail, Justice Anthony Carmona said the sentence passed must leave no doubt in the minds of citizens that there is no justification for Jackson's action, which he described as a dastardly deed.
"Having realised you chopped off the hand of the victim and seeing it in the glare of the streetlights jumping in the road, one would have thought that this may have had the desired effect of stopping you in your tracks," Justice Carmona said.
"It did not stop you. Instead, like a vampire, you desired more blood and continued to chop away."
The Judge said Jackson, who was described by Anglican priest, Fr Edwin Primus, as a cool, collective and stable young man, showed little or no remorse for his "callous" act. He said the court could not be ambivalent in signalling its contempt for "this most atrocious conduct" which occurred on the night of April 2, 2004, at Gajadhar Lands, Princes Town.

Click to enlarge
Evidence was led on behalf of the State by attorney Nizam Khan, while Jackson was represented, initially by attorney Ramesh Deena then by Ainsley Lucky.
Referring to his decision to order, for the first time in his career as a Judge, that Jackson be flogged, Justice Carmona said he did not intend to engage in any philosophical or esoteric debate on the merits or demerits of corporal punishment.
"Recognising that there is a ground swell of support against the imposition of corporal punishment, this court cannot tacitly engage itself in legislative reform, through a process of non-implementation of a sanction or sentence provided for by the law, or treat any particular piece of legislation, which may be deemed regressive or oppressive by some, with either apathy, indifference or inaction."
He said it is this type of non-implementation of available statutory sanctions which has contributed to "the burgeoning" culture of lawlessness in Trinidad and Tobago.
"This court, with its attendant safeguards, will be invoking punishment that Parliament, in its wisdom, has decreed acceptable and still relevant to deter like-minded criminals as this accused."
Commending St John, who also lost two fingers from her right hand and was chopped on her head, neck, back and legs, Justice Carmona said it was to her credit that she did not allow herself to wallow in self-pity and encouraged her to take her message to other women so they too can be empowered. He said it was an indictment on society at large that no one has seen it fit to counsel St John and her children, Akido and Stephon, now 15, who testified against his father.
"The time has come where some department or institution be set up to deal exclusively with the psychological wear and tear on victims of crime and, more so, victims of domestic violence. Very often, they are torn between and among individuals they love."