Swazi Observer, Mbabane, 9 February 2009
20 lashes make pupil's bums swell
By Faith Vilakati
TEACHERS at Velebantfu High School in New Haven have been accused of using excessive force when applying corporal punishment.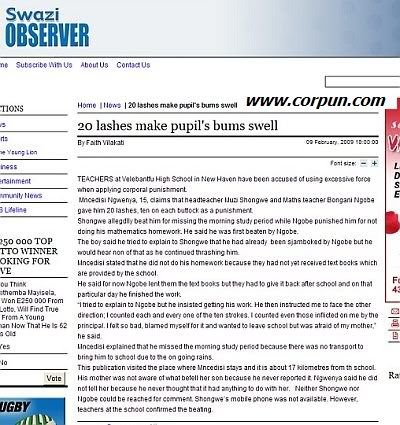 Click to enlarge
Mncedisi Ngwenya, 15, claims that headteacher Muzi Shongwe and Maths teacher Bongani Ngobe gave him 20 lashes, ten on each buttock as a punishment.
Shongwe allegedly beat him for missing the morning study period while Ngobe punished him for not doing his mathematics homework. He said he was first beaten by Ngobe.
The boy said he tried to explain to Shongwe that he had already been sjamboked by Ngobe but he would hear non of that as he continued thrashing him.
Mncedisi stated that he did not do his homework because they had not yet received text books which are provided by the school.
He said for now Ngobe lent them the text books but they had to give it back after school and on that particular day he finished the work.
"I tried to explain to Ngobe but he insisted getting his work. He then instructed me to face the other direction; I counted each and every one of the ten strokes. I counted even those inflicted on me by the principal. I felt so bad, blamed myself for it and wanted to leave school but was afraid of my mother," he said.
Mncedisi explained that he missed the morning study period because there was no transport to bring him to school due to the on going rains.
This publication visited the place where Mncedisi stays and it is about 17 kilometres from the school.
His mother was not aware of what befell her son because he never reported it. Ngwenya said he did not tell her because he never thought that it had anything to do with her. Neither Shongwe nor Ngobe could be reached for comment. Shongwe's mobile phone was not available. However, teachers at the school confirmed the beating.