Straits Times, Singapore, 23 April 2007
'Gangster school' fights back with lots of heart
By Liaw Wy-Cin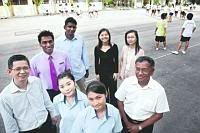 ALL CHANGE: With the community's help, Yuan Ching has turned itself around. -- BRYAN VAN DER BEEK
WHEN he was the station manager at Lakeside MRT, Mr Kassey Kalleichelven kept the place humming.
But he also kept an eye out for teenagers in Yuan Ching Secondary School's light and dark blue uniforms.
The sight of a light blue top not tucked neatly into a skirt or pair of trousers would send the burly officer into action: He would tick off the student for not wearing the uniform properly. If students talked back, he would send a sealed note to the school's vice-principal.
For eight years, until he was transferred to the larger Jurong East MRT station this month, Mr Kassey, 42, played this Big Brother role. He was part of a battalion of community figures the school roped in to enforce discipline among its students beyond its gates. The police, community centres and business owners in the area were also in on this.
Yuan Ching had a reputation as Jurong's 'gangster school' between the mid-90s and 2002. It was known for poor discipline and less-than-stellar academic scores, which resulted in fewer and fewer students choosing to go there.
Today, the 29-year-old school has a heartwarming, 'turnaround' story to tell. Discipline and academic results are better; next year, it will expand its current space and add a new extension for its 1,094 students. It has 'taken a village', so to speak, to put the school on track. In 1999, when the school clamped down on poor discipline, vice-principal Christopher Gomez decided to extend operations to the neighbourhood. He put out appeals, and the community responded.
The police, mainly from the Jurong West Neighbourhood Police Centre and Jurong Police Divisional HQ, became a visible presence: Officers made twice-weekly visits, ate in the canteen and went on patrol during dismissal hours. Beyond the school gates, they looked out for gang activity, tardiness, loitering and truancy, as well as late-night sightings of Yuan Ching students. Reports were phoned in to the school's operations manager or vice-principal.
Staff at the Taman Jurong and Boon Lay community centres would also call if students were seen misbehaving. A woman working at a coffee shop would make good on her threats to report bad behaviour to the school. Mr Gomez himself canvassed Jurong Point Shopping Centre, Jurong Entertainment Centre and Jurong Superbowl for support, handing out his namecard to store managers and asking them to report truants.
Few schools go beyond their gates to enforce discipline, but for Yuan Ching, it was a matter of survival. The school had only 1,000 pupils in 1996. In 1997, only 50 Primary 6 pupils named Yuan Ching as their first choice for a secondary school. By 2002, enrolment had dropped to 657 - half that of an average secondary school. It was a low point, and the talk was that the school would be merged with another.
Backed by community help, the school's teachers buckled down to work. They had lunch at Jurong Point and patrolled the neighbourhood to nab loiterers and misbehaving pupils.
Within the school, intelligence played a big part in stamping out gangsterism and smoking. Mr Gomez counselled three known student gang leaders, and he ferreted out and confiscated cigarette stashes hidden around the school. At the same time, the school increased efforts to raise its academic standards.
Former principal Chong Hoi Neng, now head of Pei Hwa Secondary in Sengkang, recalled: 'The focus was very clear. We channelled everything into academic results. We decided everything else was unimportant, so we did not chase awards or medals at competitions, or put up musicals or exhibitions.'
Teachers ran extra classes after school, and homed in on improving English. It worked: The school, which had only a 57 per cent pass rate for English in 2000, managed 96 per cent in 2002.
That was no flash in the pan. The vastly improved pass rate has held steady since. The percentage of students with five or more O-level passes jumped from 57.4 per cent in 2000 to 85.4 per cent in 2001 and 96.7 per cent in 2002. Last year, it was 91.3 per cent.
As for enrolment, it has become harder to get into Yuan Ching because more students want to go there now. Last year, 1,796 Primary 6 pupils put Yuan Ching among their first six choices for secondary schools. For about 260, it was their first choice.
The quality of its intake has also risen. In 1998, a Primary 6 pupil with a PSLE score of at least 188 could get into a Secondary 1 Express class. This year, the cut-off score was 20 points higher at 208.
Besides academic results, Yuan Ching's turnaround is also evident in the state of discipline. From 80 canings a year between 1999 and 2001, the number has since dropped to 10.
But Yuan Ching staff were not satisfied. The school went on an aggressive publicity drive, targeting the area's primary schools. What the sales pitch lacked in frills, it made up for in passion. Mr Gomez said: 'We told parents: 'We have nothing to offer you. Our school is old, our discipline is bad, we have no stellar results to shout about. But we will care for your children. We will bring the school up. Take us on faith'.'
Among the parents who did was Mrs Quek-Pang May Eng, 48, who in 2001 was looking for a school for her only child, Lydia Quek. With a PSLE score of 247, she could have gone to many better schools. But Yuan Ching was near their home, and Miss Quek would spend less time travelling. 'I was confident the school would live up to its promises,' said Mrs Quek-Pang. Miss Quek, now 19, graduated from the school three years ago, but her mother is still active in Yuan Ching's parent support group.
Former student Silvalingam Gunaraaj recalled being caned three times for fighting, vandalism and smoking. But the school's turnaround helped him too. Now 19, he is studying electrical engineering at a polytechnic.
Looking back, Mr Gomez believes the school succeeded in pulling itself up because of 'heart'. He said: 'We have a group of passionate and dedicated teachers who decided they would pull out the stops to save the school. No one wanted to see it closed or merged.'