Straits Times, Singapore, 6 December 1997
Eight get jail, rotan for injuring NSman in staring case
A TEENAGER and seven men were each sentenced to 5½ years' jail and 12 strokes of the cane yesterday for injuring a national serviceman and two others over a "staring incident" at a karaoke lounge. The eight had pleaded guilty earlier this week to being in an unlawful assembly when one or more of them attacked and seriously injured the national serviceman, Mr Goh Tee Chuan, 18, at Happy Palace karaoke lounge in Joo Chiat Road, at 2 am on Feb 10 this year. Mr Goh died of his injuries 30 minutes later. It was the fourth day of the Chinese New Year.
The eight also admitted hurting car polisher Ng Boon Chiang, 22, by rioting at the same place that day. He received outpatient treatment at a hospital.
Their attack -- made with bar stools, bottles and glasses -- had been triggered off by a "staring incident" between a member of their group and Mr Ng, in the lounge's toilet. The eight -- Lau Yan Jun, 17, Yap Choon Hock, 24, both unemployed; painter Koh Hock Keong, 23; his brother Koh Fock Beng, 30, a contractor; wireman Tham Hern Lim, 37; National Serviceman Yong Chek Kian, 20; hawker's assistant Sim Siong Meng; 21, Kok Kian Chiew, 21, unemployed -- were accused originally of murdering Mr Goh, but the charges were reduced later by the prosecution.
A third charge of rioting involving another victim, Mr Aw Kok Siong, 22, was considered. Deputy Public Prosecutor Karen Loh had urged the court to pass stiff consecutive sentences on the eight, to send a strong signal to would-be offenders that such senseless violence would not be tolerated. Their offence, she added, was not committed on the spur of the moment, as they had discussed the matter after Sim complained that someone had stared at him.
All except Kok, a Malaysian, were represented by counsel. Three of the lawyers yesterday urged the court not to pass deterrent and consecutive sentences.
Lau's lawyer, Mr Thomas Toh, said in mitigation that his client came from a good family, and had intended to complete his secondary education in Australia, where he had studied for a year a few years back.
Ms Teo Soh Lung, for Yap, said her client and his friends were celebrating Chinese New Year on the day of the incident, after several days of hard work selling New Year food in Chinatown.
She said that they had consumed six bottles of brandy, and had been quite drunk at the time.
Ms Prabha Dube, who represented Koh Hock Keong, Tham, Yong and Sim, said the accused had never intended to get in a fight, let alone to cause someone's death.
Her clients were shocked and saddened by the victim's death and had expressed their heartfelt apologies to his family.
Koh Fock Beng's counsel, Mr Kirpal Singh, said that the incident was unpremeditated, and that his client, whose wife was then working in the lounge, had told the others not to create any trouble. Because of the incident, she lost her job. District Judge Syed Alwee Ahmad Alsree sentenced each of them to four years' jail and six strokes for grievous hurt, and 18 months and six strokes for rioting.
The sentences are consecutive. The judge backdated all sentences, except Kok's, to February as he was arrested much later -- in October.
Each of the eight could have been jailed for up to seven years for causing grievous hurt and five years for rioting, plus caning.
---
---
Deutsche Presse-Agentur, 12 December 1997
New Zealand Man Caned in Singapore
A New Zealand man was flogged in Singapore Friday for overstaying his visa, officials said.
David William Peden, 31, was given three strokes of the cane for the offence, a New Zealand High Commission spokeswoman said.
A New Zealand consular officer in Singapore planned to visit Peden to check on his condition, the spokeswoman added. "They're just going to make sure he's okay and give him some mail," she said.
New Zealand officials had sent a formal note to Singapore's Foreign Minister when the sentence was passed.
The note "said that New Zealand does not condone caning as a form of punishment," she said. "But we didn't ask them to review (the punishment)." She noted that Peden himself had not appealed the sentence.
Peden pleaded guilty last month to staying in Singapore more than two years after his visitor visa expired. He also received an additional 12-month jail term for taking morphine.
He had been in custody since narcotics officers arrested him on the morning of October 26 on suspicion of consuming a controlled drug.
His urine tested positive for morphine at that time, and he was found to have overstayed a two-week visa which expired on August 8, 1987.
Peden, a divorced resident of Huntley, New Zealand, was stationed in Singapore with the New Zealand armed forces in 1988 and 1989, sources said earlier. He was reported to have a girl friend in Singapore.
Peden could have been sentenced to a maximum total of 16 years in prison and fined 20,000 Singapore dollars (12,500 U.S. dollars) for his drug and immigration offences.
Singapore's use of caning made worldwide headlines in 1994, when American teenager Michael Fay, then 18, was sentenced to six strokes for spray-painting cars.
The sentence was reduced to four strokes after an appeal from U.S. President Bill Clinton.
Singapore uses caning as punishment for immigration and sex offences, drug abuse and vandalism. Those being caned are strapped to a wooden frame and lashed across the bare buttocks with a two-metre rattan cane.
---
The Press, Christchurch, New Zealand, 15 December 1997
Caning bearable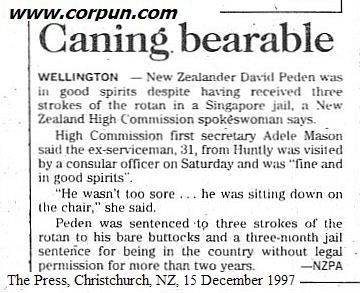 WELLINGTON -- New Zealander David Peden was in good spirits despite having received three strokes of the rotan in a Singapore jail, a New Zealand High Commission spokeswoman said.
High Commission first secretary Adele Mason said the ex-serviceman, 31, from Huntly was visited by a consular officer on Saturday and was "fine and in good spirits".
"He wasn't too sore ... he was sitting down on the chair," she said.
Peden was sentenced to three strokes of the rotan to his bare buttocks and a three-month jail sentence for being in the country without legal permission for more than two years. -- NZPA