The New Paper, Singapore, 21 June 1995
Singapore today
'When the cane hit, I went soft'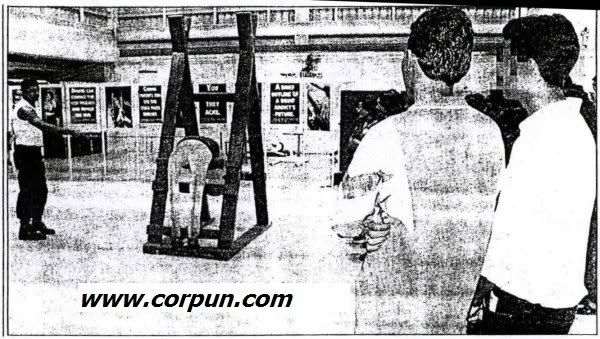 Beating drugs together: Sworn buddies Jack (left) and Steven watching a demonstration of flogging on a dummy at the Khalsa Crescent Drug Rehabilitation Centre.
Picture/Jonathan Choo
Twenty teenagers visited a drug rehabilitation centre (DRC) to get a taste of the punishment awaiting drug addicts. Still wincing from watching a canvas dummy flogged, RACHEL TAN speaks to some of the visitors
THE 20 teenagers thought they knew what to expect from their visit to the DRC.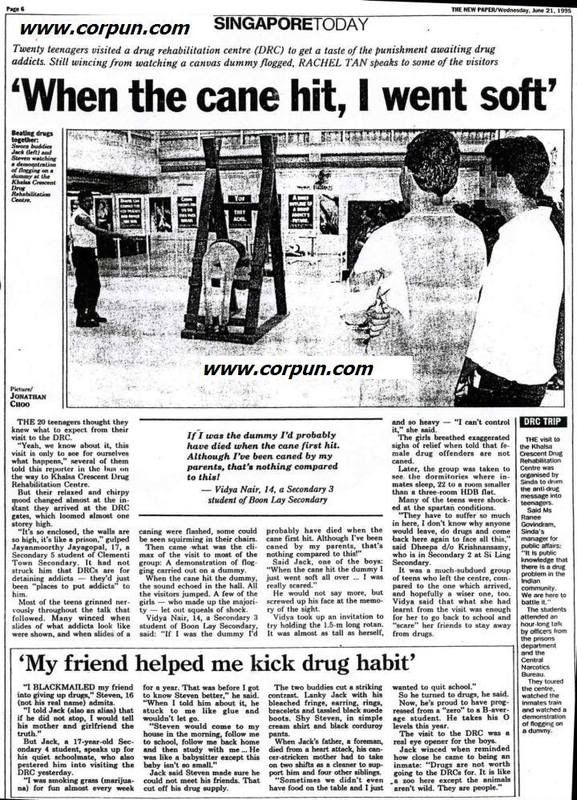 "Yeah, we know about it, this visit is only to see for ourselves what happens," several of them told this reporter in the bus on the way to Khalsa Crescent Drug Rehabilitation Centre.
But their relaxed and chirpy mood changed almost at the instant they arrived at the DRC gates, which loomed almost one storey high.
"It's so enclosed, the walls are so high, it's like a prison," gulped Jayanmoorthy Jayagopal, 17, a Secondary 5 student of Clementi Town Secondary. It had not struck him that DRCs are for detaining addicts -- they'd just been "places to put addicts" to him.
Most of the teens grinned nervously throughout the talk that followed. Many winced when slides of what addicts look like were shown, and when slides of a caning were flashed, some could be seen squirming in their chairs.
Then came what was the climax of the visit to most of the group: A demonstration of flogging carried out on a dummy.
When the cane hit the dummy, the sound echoed in the hall. All the visitors jumped. A few of the girls -- who made up the majority -- let out squeals of shock.
Vidya Nair, 14, a Secondary 3 student of Boon Lay Secondary, said: "If I was the dummy I'd probably have died when the cane first hit. Although I've been caned by my parents, that's nothing compared to this!"
Said Jack, one of the boys: "When the cane hit the dummy I just went soft all over -- I was really scared."
He would not say more, but screwed up his face at the memory of the sight.
Vidya took up an invitation to try holding the 1.5m-long rotan. It was almost as tall as herself, and so heavy -- "I can't control it," she said.
The girls breathed exaggerated sighs of relief when told that female drug offenders are not caned.
Later, the group was taken to see the dormitories where inmates sleep, 22 to a room smaller than a three-room HDB flat.
Many of the teens were shocked at the spartan conditions.
"They have to suffer so much in here, I don't know why anyone would leave, do drugs and come back here again to face all this," said Dheepa d/o Krishnansamy, who is in Secondary 2 at Si Ling Secondary.
It was a much-subdued group of teens who left the centre, compared to the one which arrived, and hopefully a wiser one, too. Vidya said that what she had learnt from the visit was enough for her to go back to school and "scare" her friends to stay away from drugs.