Corpun file 24221 at www.corpun.com
The Straits Times, Singapore, 1 December 1981, p.9
Ganja sale gets NZ rifleman jail and cane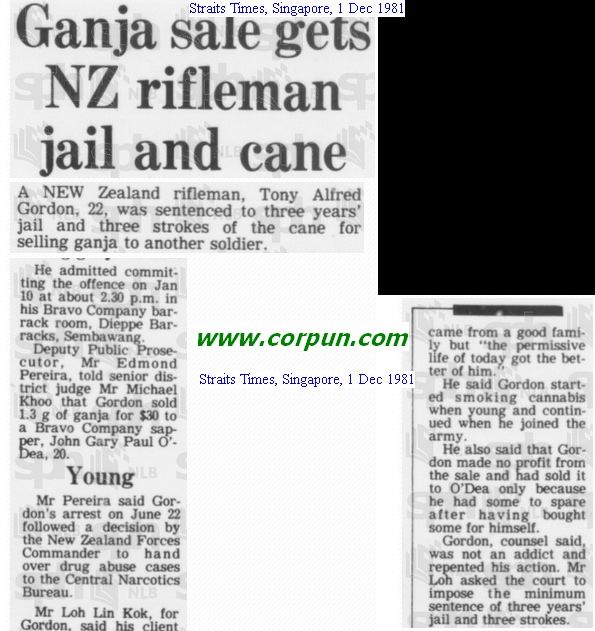 Click to enlarge
A NEW Zealand rifleman, Tony Alfred Gordon, 22, was sentenced to three years' jail and three strokes of the cane for selling ganja to another soldier.

He admitted committing the offence on Jan 10 at about 2.30 p.m. in his Bravo Company barrack room, Dieppe Barracks, Sembawang.

Deputy Public Prosecutor, Mr Edmond Pereira, told senior district judge Mr Michael Khoo that Gordon sold 1.3g of ganja for $30 to a Bravo Company sapper, John Gary Paul O'Dea, 20.
Young
Mr Pereira said Gordon's arrest on June 22 followed a decision by the New Zealand Forces Commander to hand over drug abuse cases to the Central Narcotics Bureau.

Mr Loh Lin Kok, for Gordon, said his client came from a good family but "the permissive life of today got the better of him."

He said Gordon started smoking cannabis when young and continued when he joined the army.

He also said that Gordon made no profit from the sale and had sold it to O'Dea only because he had some to spare after having bought some for himself.

Gordon, counsel said, was not an addict and repented his action. Mr Loh asked the court to impose the minimum sentence of three years' jail and three strokes.
---
Follow-up: 17 April 1982 - NZ soldiers fail in appeal for clemency
Article: Judicial caning in Singapore
Archive 1976 to 1995: Singapore