The Straits Times, Singapore, 12 December 1953
Ratings to be flogged
Beat up, robbed taxi driver
MR. Justice Knight told two naval ratings, John Henry Irvine and Derek Hatcher, at the Singapore Assizes yesterday: "I can understand you getting drunk and robbing a person, but I cannot condone the using of force on a frail taxi driver."
Irvine and Hatcher, who were found guilty of robbing a taxi driver, Lee Ah Soo, of $14 with force, were respectively sentenced to two years' gaol with 10 strokes of the rotan and four years' gaol with 10 strokes of the rotan.
Irvine had a clean record while Hatcher had a previous conviction.
On the night of Aug. 30 the two men engaged the taxi in Orchard Road and ordered the driver to go towards Pasir Panjang, the court was told.
At Keppel Road, the driver was told to stop. Then one of the ratings punched the driver several times in the face.
The men then robbed him of the money, said the prosecution.
Irvine and Hatcher denied the charge. They said that the taxi went into a drain in Keppel Road, so they got into another taxi and drove off.
---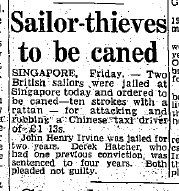 Daily Express, London, 12 December 1953
Sailor-thieves to be caned
SINGAPORE, Friday. -- Two British sailors were jailed at Singapore today and ordered to be caned -- ten strokes with a rattan -- for attacking and robbing a Chinese taxi-driver of £l 13s.
John Henry Irvine was jailed for two years. Derek Hatcher, who had one previous conviction, was sentenced to four years. Both pleaded not guilty.