The Straits Times, Singapore, 28 June 1933, p.6
Stole Books.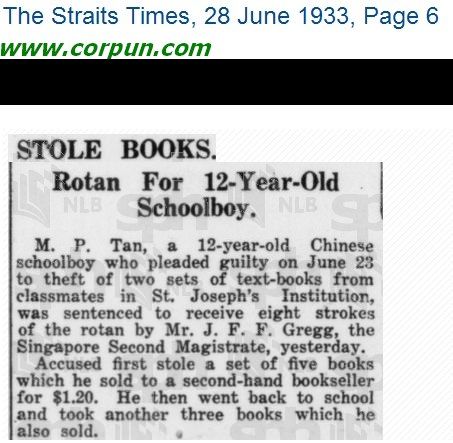 Click to enlarge
Rotan For 12-Year-Old Schoolboy.
M.P. Tan, a 12-year-old Chinese schoolboy who pleaded guilty on June 23 to theft of two sets of text-books from classmates in St. Joseph's Institution, was sentenced to receive eight strokes of the rotan by Mr. J.F.F. Gregg, the Singapore Second Magistrate, yesterday.
Accused first stole a set of five books which he sold to a second-hand bookseller for $1.20. He then went back to school and took another three books which he also sold.
Country files: Corporal punishment in Singapore
Article: Judicial caning in Singapore