Straits Times, Singapore, 7 November 2007
Man gets jail, caning for attempted robbery
He threatened to hurt victim with a syringe which he claimed contained HIV virus
By Elena Chong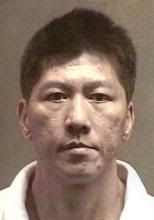 Koh has previous convictions for robbery, armed robbery, drug possession and theft. -- PHOTO: CRO
A MAN was jailed for three years and ordered to be given six strokes of the cane on Wednesday for trying to rob a woman.
Koh Lye Soon, 45, had threatened Ms Li Ji Hong, 38, in Mandarin: "Miss, Robbery" and shown her a syringe, claiming it contained HIV virus, when he stopped her at a staircase of Block 334 Kreta Ayer Road on Sept 18.
Out of fear, she fled down the staircase and called the police.
Police came and saw Koh loitering at the second floor staircase near Block 333 and arrested him. They found a syringe and an unused needle in the pocket of his pants.
Koh has previous convictions for robbery, armed robbery, drug possession and theft.
Copyright © 2007 Singapore Press Holdings Ltd.
---
---
Straits Times, Singapore, 16 November 2007
Robber gets six years, 24 strokes
A MAN who robbed several Chinese women of their valuables with his accomplices two months ago was sentenced to a total of six years' jail and 24 strokes of the cane on Friday.
See Ming Shun, 22, pleaded guilty to robbing Ms Jie Tang, 28, of cash and cellphones amounting to $1,100 with Jackson Teo, Quah Rong Hui, Jackie Teo and 'Kim Mo' at MacPherson Road on Sept 17.
Three days later, he struck again at Balestier Road and robbed Ms Liu Xiaoji, 44, of $1,200 worth of valuables and Ms Liu Yannan, 26, of $1,297 cash.
The cases of Jackson Teo, 23, and Jackie Teo, 22, are pending, while the others are at large.
A district court heard that the robbers tied the hands of both victims and two other Chinese nationals at the Balestier Road premises before escaping with the stolen items.
The older Ms Liu and another woman managed to remove the strings later and chased after the robbers. Ms Liu Yannan and another woman also managed to free themselves shortly and joined in the pursuit.
They saw a police patrol car and told the officer that they had been robbed.
The policemen got into their car and chased after See who was in a taxi. He was then arrested. In the other case, the court heard that See and four others entered the main door of the house and shouted robbery in Mandarin.
They relieved Ms Jie of $800 and two cellphones.
Copyright © 2007 Singapore Press Holdings. All rights reserved.
---
---
Straits Times, Singapore, 19 November 2007
Cabby gets 3 years, 12 strokes for helping robbers escape
By Elena Chong
A CABBY who provided transport to three Indonesian robbers was sentenced to three years and 12 strokes of the cane on Monday for abetting in the robbery.
Rosaidil Dollah, 41, admitted to intentionally aiding Ahmad Yani, 41, Lutpi Amir, 39, and Mohammad Rizky, 37, to commit robbery at a house at Riverina View in Pasir Ris on July 7.
The court heard that on July 5, Rosaidil had picked up the three from Jalan Besar as previously arranged and drove them to a housing estate in Bukit Timah to recce the homes were targetting to rob.
The next day, Rizky again contacted Rosaidil to pick them up. This time he drove them to Pasir Ris where the trio robbed businessman Daren Ng Chih-Ming, 39, of $84,418 worth of property.
The trio, donning gloves and masks, entered the house through a back door by climbing over the fence of the house.
Each of them then took a knife from the kitchen before confronting the victim and his wife in the master bedroom. Other family members were rounded up and taken to the master bedroom. They tied up the victim.
After the heist, Rosaidil came and picked up them up. He was rewarded $200 and was also given a bag of jewellery to sell. He later sold them and gave the proceeds to Yani and received a share of it.
Two of the robbers - Ahmad Yani and Lutpi Amir - were each jailed nine years and ordered to be caned 24 strokes while Mohammad Rizky was sentenced to four and a half years jail and 12 strokes of the cane.
Another man, Mohamad Hailmy Mohd Saad, 34, who had similarly provided transport to two of the robbers last year, was given three years' jail and 12 strokes of the cane.
Rosaidil had another similar charge and two counts of disposing stolen jewelleries considered during sentencing.
His lawyer, Peter Fernando said his client, a father of two, succumbed to temptation as he owed several loansharks about $5,000.
Copyright © 2007 Singapore Press Holdings. All rights reserved.
---
---
Straits Times, Singapore, 21 November 2007
Man who robbed clinic gets 8 years, 24 strokes
By Elena Chong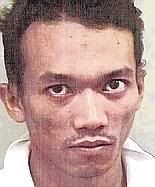 PREVENTIVE DETENTION: Izam Abdollah, together with two others, robbed and beat up a doctor in his clinic.
THERE will be no early release from jail for a man who robbed and beat up a doctor in his clinic a year ago.
Izam Abdollah, 33, was sentenced to eight years' preventive detention and 24 strokes of the cane yesterday.
The prosecution pushed for more than the minimum seven years' detention - which means no early release even for good behaviour.
The reason: Izam, a repeat offender, was unremorseful and had progressed from theft and housebreaking to offences in which he left his victims injured.
Together with two accomplices, he robbed Dr Tan Boon Huat, 57, of $1,600 worth of property and punched the doctor at his clinic in Bukit Timah.
Last Dec 17, Izam and his accomplices, Muhammad Hairi Rahmat, 25, and his wife Hafizah Abdul Latiff, 26, went to Dr Tan's clinic, equipped with a bottle of black spray, duct tape, cable fastener and panty hose.
While the couple pretended to consult the doctor, Izam went to the pharmacy and began putting medicines into his haversack.
When Dr Tan saw this on his CCTV monitor, he came out of the consultation room to confront him.
Izam and Hairi then punched the doctor until he fell.
Hafizah sprayed paint onto the CCTV camera and tied the doctor's ankles.
Dr Tan was dragged into his consultation room, beaten up, blindfolded, and had his wrists tied before the trio robbed him and fled.
His shouts for help were heard by a shop assistant who called the police.
Izam's accomplices were dealt with earlier.
Copyright © 2007 Singapore Press Holdings Ltd.