Straits Times, Singapore, 8 January 2007
Jail, cane for brains behind Malaysian passport racket
Mastermind is first person extradited here for immigration offences in a decade
By Tanya Fong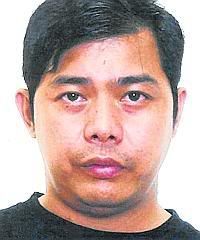 SENTENCED: Mok gets four strokes and 1½ years in jail.
THE recent sentencing here of the mastermind of a Malaysian passport syndicate was noteworthy in one aspect: This is the first time in the past decade that someone has been extradited to Singapore for immigration-related offences.
Mok Chee Meng, 35, was the brains behind the syndicate which modified genuine Malaysian passports and sold them to four Chinese nationals who wanted to enter Singapore.
He was sentenced to 1½ years in jail and four strokes of the cane on Dec 28 last year.
He was convicted on four counts of abetting illegal entry, which carries a penalty of up to two years in jail and at least three strokes of the cane.
Mok was extradited to Singapore by the Immigration and Checkpoints Authority (ICA) after the four Chinese - repeat immigration offenders banned from coming here - were arrested at the Woodlands Checkpoint early last year.
One of his clients, 41-year-old Wang Wen Bin, was sentenced to a year and seven months in jail and seven strokes of the cane in May last year.
He had previously been arrested for illegal entry in July 2002 and served a one-year jail term and was permanently banned from entering Singapore.
But, determined to come back here to work, Wang decided to try entering from Malaysia. On Dec 13, 2005, he met Mok and bought a passport for $1,000.
Wang gave him two photos, which Mok pasted over the photo of the passport's rightful owner. Wang then used the passport to enter Singapore, but was arrested during an ICA raid.
Mok also sold passports to three Chinese women: Chen Rui Ying, 31; Zhou Hong Ge, 37; and Lin Fang, 33.
The three were arrested at the Woodlands Checkpoint when ICA officers discovered they were using falsified travel documents.
Chen and Zhou were jailed for one year in February last year, while Lin was imprisoned for one year and one month in March.
Their testimonies helped the authorities identify the Malaysia-based Mok as the mastermind of the syndicate.
With the help of Singapore and Malaysian police, the ICA arrested and extradited Mok on Dec 21.
More than 10 sets of forged Singaporean work permits and work certificates were seized from him.
---
---
Straits Times, Singapore, 9 January 2007
Cabby gets jail, caning for vandalising speed camera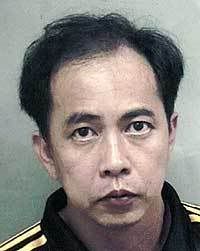 Mr Ng Ko Sen allegedly vented his frustration at the camera which had captured his vehicle speeding the night before. -- CRO
A TAXI driver was sentenced to three months and three strokes of the cane for vandalising a speed camera along Bukit Timah Road.
Ng Ko Sen, 43, had put on a ski mask and a pair of biking gloves when he threw two rocks at the speed camera at about 1.15am on July 24 last year.
He had also covered the registration number of his taxi with a beige masking tape.
He vented his frustration at the camera which had captured his vehicle speeding the night before (July 23).
Ng, who pleaded guilty, was ordered to pay $3,600 for the damage.
---
---
Straits Times, Singapore, 17 January 2007
Man raped stepdaughter again and again
He gets 17 years' jail and 24 strokes for attacking teen over period of three years
By Khushwant Singh
A TEENAGER raped repeatedly by her stepfather over three years eventually gave up resisting - because he overpowered her and ignored her pleas to stop.
The 38-year-old forklift driver pleaded guilty in the High Court on Monday - but not without first venturing the stand that the girl's lack of resistance meant she had consented to sex with him.
He backed down when the prosecution said she did not struggle because it was futile and because she wanted the attacks over and done with.
The court ordered that details that would lead to the identification of the girl not be disclosed.
The teenager, with an IQ of 77 and borderline intelligence, kept mum about the abuse until last May, when she told her mother.
The police were called, and her stepfather was arrested.
Yesterday, Justice Choo Han Teck dealt him 11 years' jail and 12 strokes of the cane for each of two charges of raping the girl in March and June 2003, when she was 13.
He was jailed another six years for raping her in December 2005, when she was 15.
As the first two jail terms are to run concurrently, he will be behind bars for 17 years and get the maximum 24 lashes of the cane.
He could have been jailed up to 20 years for each offence.
Four other charges, for rapes committed in March, June, August and October 2005, were taken into consideration in the sentencing.
Deputy Public Prosecutor Lee Cheow Han, asking for a stiff sentence, said the stepfather had no qualms exploiting the girl's innocence.
A virgin at the time of the first attack, the girl told Dr Cai Yiming of the Child Guidance Clinic in July last year that she felt she had lost something she valued, and that she was haunted by memories of the rapes.
DPP Lee said: 'The stepfather's conduct was more reprehensible because the rapes were committed in the very place the victim ought to have felt most secure - in her own home.'
The girl's mother brought two other children from a previous marriage into her November 2000 union with the forklift driver. The couple do not have children.
In March 2003, the man told the teenager's two younger siblings to go downstairs to play before raping her in her bedroom.
She tried to break free but he was too strong. She repeatedly cried out to her mother for help, but the woman, a cook, was out at work.
He warned her against telling anyone about what he did, and three months later, had his way with her again.
Again, she struggled but was unable to break free. In subsequent attacks, she pleaded with him to stop - also unsuccessfully.
The stepfather gave an anguished smile when he was handcuffed and led off to jail.
No family members were in court.
khush@sph.com.sg
Copyright © 2007 Singapore Press Holdings. All rights reserved.
---
---
Straits Times, Singapore, 18 January 2007
Doctor basher
Ex-addict punched, robbed GP of $250
By Elena Chong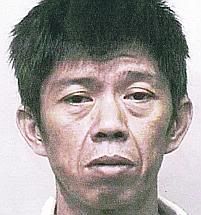 REVENGE: Ang, 46, told police he had been angry with the doctor for scolding him previously.
A FORMER drug addict told the police he punched a doctor and robbed him of $250 as revenge for the time the doctor ticked him off for reeking of cigarettes.
Yesterday, Ang Chye Seng, 46, was given the minimum sentence of five years' jail and 12 strokes of the cane for robbing and hurting Dr Tan Boon Huat at BH Tan Medical Clinic in Bukit Timah Road last year.
A district court heard that the 57-year-old doctor was locking up his consultation room at about 5pm on Aug 30 when he saw Ang in the clinic. Without saying a word, Ang rained punches on Dr Tan's face until he fell, and then demanded to know where the day's takings were.
For fear of being hurt further, the doctor showed him where the takings and petty cash - about $250 - were kept.
Just then, two men entered the clinic to see the doctor. Ang grabbed the money and fled, pursued by the pair. They noted down the licence plate on Ang's motorcycle, and the police arrested him that evening.
While being quizzed by the police, Ang said he wanted to rob the doctor because he was upset at having been scolded by him once before.
---
---
Straits Times, Singapore, 24 January 2007
24 years' jail, cane for rapist stepdad
He gets maximum sentence despite appeals by wife, victim for lighter penalty
By Tanya Fong
A FORMER sales consultant was sentenced to 24 years in jail and 24 strokes of the cane for raping his young stepdaughter at home on numerous occasions between 2003 and February last year.
The 29-year-old man, who cannot be named in order to protect the identity of the victim, was given the maximum sentence for rape by Justice V.K. Rajah.
The case took a strange twist when both the victim and the man's wife submitted mitigation letters pleading for a lighter punishment.
His wife said that she needed him, as he took good care of the family after she fell ill and could no longer hold a job.
The victim said she did not want herself and her stepsister to be 'without a father' and for her mother 'to suffer outside here'.
The handwritten letters were submitted to court, but Justice Rajah said: 'Given the nature of the offences and the identity of the victim, I do not consider the letters from the family and the victim as a relevant mitigating consideration.'
In the High Court yesterday, disturbing details were read out describing how the man sexually assaulted the girl, who is now 14 years old.
He first molested her some time between July and August 2003, about three months after her 10th birthday, while she was sharing a room with her four-year-old half-sister.
Her natural mother, a 33-year-old factory worker who married the man in 1999, was then working the night shift.
He first raped the girl in 2004.
The crimes did not come to light until February last year, when she was going for a health screening in school. A teacher called the police after overhearing the girl telling her best friend that her stepfather had touched her.
In a psychiatric report submitted on the victim, dated April last year, the girl said that the first time she was raped, it was 'painful' and she felt 'sad and afraid'. She also said she had been 'fearful' since the abuse began.
Said Justice Rajah: 'I find this to be a particularly disturbing case that involved an escalating pattern of sexual violations and depravity that stretched over a period of two years. It requires severe sentencing.'
Abused again and again
2003: Former sales consultant first molested girl, about three months after she turned 10.
2004: He continued to touch her private parts. Then he went into her room naked, removed her clothes and raped her. This was the first time.
October 2005: When everyone was at home, he went into the girl's bedroom, removed her clothes and his, and raped her again. He raped her on at least one other occasion that month.
February 2006: The crimes came to light when she was going for a health screening in school.
Copyright © 2007 Singapore Press Holdings. All rights reserved.