Straits Times, Singapore, 2 February 2006
Teen chooses jail, cane to reformative training
He had heard stays at reform centre could be extended
By Khushwant Singh
A 17-YEAR-OLD deliveryman convicted for his part in a mass assault on two teens took the unusual step yesterday of asking the court for a jail term and caning - rather than a stint at the Reformative Training Centre (RTC).
NO TO REFORMATIVE TRAINING: Yong Kim Shui, who along with 19 other youths had assaulted two teens, told the court he wanted to get his prison term over and done with, so as to pursue his studies.
Yong Kim Shui told the court he wanted the punishment over and done with quickly so that he could pursue his studies.
The youth, who is awaiting his N-level results, intends to either do his O levels or take up a course at the Institute of Technical Education, said his lawyer Alan Moh.
On Jan 23, Yong pleaded guilty to joining a group of 19 other youths in assaulting two 17-year-olds, Mr Zhang Wei Min and Mr Tan Yan Yi. The attack took place in a multi-storey carpark in Bukit Batok West Avenue 7 on Nov 3 last year.
The two victims did not suffer any serious injuries.
Yong's request surprised District Judge F.G. Remedios, who asked: 'Doesn't he realise that he would have a better future and better prospects if he was sent to RTC instead of prison?'
His lawyer told the court that Yong did not want reformative training in RTC, where inmates stay for between 18 months and three years.
Unlike prison, from which a convict can be let out early for good behaviour, there is no such privilege at the RTC.
Officers at RTC can even extend the terms of youths sent there if they are not satisfied with their progress.
The judge adjourned the hearing for Mr Moh to talk to his client, after which the lawyer returned to court repeating Yong's request for a short jail term on a charge of rioting.
Justice Remedios then sentenced Yong to two years in jail with six strokes of the cane.
Yong tried to put on a brave face, but his eyes filled with tears when he was handcuffed.
The youth had a previous conviction for being a member of an unlawful assembly and for disorderly behaviour, for which he was jailed for 10 weeks in August last year.
Only two of his 19 accomplices have been caught.
Soh Bo Sheng, 16, was fined $1,000 after pleading guilty to affray on Nov 18 last year.
The other accomplice was dealt with in the Juvenile Court. He cannot be named as he is 15 years old.
The courts sometimes send young offenders between the ages of 16 and 20 to the RTC, where they get a chance at rehabilitation.
During their stay there, they go through a regime of foot drills, counselling, education and vocational training, among other programmes.
Upon release, they are placed under compulsory supervision by prison counsellors for 12 months or more.
Mr Moh told The Straits Times that Yong had heard that stays in RTC were often extended to at least a year and 10 months, and decided that a jail sentence, even with caning, would be preferable.
'He prefers to endure pain so as to serve less time,' the lawyer said.
With remission, Yong will serve 16 months in jail.
Mr Moh told The Straits Times that Yong's family told him that the youth had a flair for computers. His dream was to become an IT engineer, they said.
'Though his parents could not finance his further education, the father being a carpenter and the mother a housewife, he took up employment as a deliveryman to raise money for his education,' Mr Moh told the court.
'His determination to succeed and overcome obstacles is hinged on the unwavering, moral support of his doting parents, his supportive siblings and his cousins whose good academic results had inspired the accused to work hard to seek achievement.'
---
---
Straits Times, Singapore, 3 February 2006
He set up labour business using 12 overstayers
Sri Lankan supplied cafe chain with cleaners and dishwashers
By Elena Chong
A SRI LANKAN who set up an illegal labour supply business providing dishwashers and cleaners to a cafe chain was jailed for two years and ordered to be given three strokes of the cane yesterday.
PUNISHED: Duraisamy was jailed for two years and ordered to be given three strokes of the cane.
Duraisamy Mohanaranjan pleaded guilty to seven charges, including harbouring an immigration offender, fraudulently possessing a Singapore international passport and cheating by posing as a Singaporean.
He registered a company called Shine 8 Enterprise to supply workers to the Han's Cafe and Cake House chain.
The 44-year-old recruited 10 Sri Lankans and two Indian nationals, all overstayers who did not have valid work passes. Three of them were employed as dishwashers and general cleaners at Han's at Great Eastern Centre, Pickering Street, on a monthly salary of $800.
When Duraisamy and the immigration offenders were arrested at a flat in Block 627, Senja Road on Nov 14 last year, he was found with a Singapore international passport belonging to someone named Kumeran Ramu.
Posing as Mr Ramu, he had cheated the flat-owner, 29-year-old Lim Li Li, into believing that he was a Singapore citizen when he signed the tenancy agreement on Nov 13, 2004.
Investigations revealed that he rented out the rooms in the flat to immigration offenders, including a 36-year-old Sri Lankan whom he harboured from Jan 15 to Nov 14 last year.
When he entered Singapore on July 14 last year with his close friend 30-year-old Alagappan Bhooja Thevar, he had made a false declaration on an immigration form.
On the form, he claimed that he lived at Block 445 Hougang Avenue 8, which was Alagappan's home, and was given a 30-day social visit pass.
Alagappan was jailed for one month on Jan 27 for abetting Duraisamy to get a social visit pass by making a false statement.
Duraisamy had 15 other charges taken into consideration during sentencing.
The three men who were employed have been dealt with separately while the remaining nine were also convicted of their respective immigration offences.
---
---
Straits Times, Singapore, 3 February 2006
Serial sex offender raped 69-year-old, attacked 2 students
Be Selina Lum
WHEN he was 16, Sashi Kumar Pubalasingam was caught molesting his female schoolmates and had to go through a tough reformative regime for his crime.
NO WOMAN WAS SAFE: Sashi Kumar beat up and raped a 69-year-old widow and sexually assaulted two students.
But just six months after being released from the Reformative Training Centre in January 2004, Sashi Kumar, then 22, beat up and raped a 69-year-old widow.
Eight months later, in March last year, he sexually attacked two students, aged 18 and 20, in the space of 24 hours.
Yesterday, the High Court packed off the serial sex offender, now 23, to jail for 20 years, where he will be given the maximum 24 strokes of the cane.
Justice Kan Ting Chiu noted that Sashi Kumar preyed on victims who were alone and defenceless, assaulting them into submission.
The punishment, he said, was to ensure that he would not repeat his offences 'for some time to come'.
'I hope that when you are locked up for the good of society, that you reflect on the shameful way you have led your life and that somehow, you will make an effort to change your ways,' the judge added.
All three women, who were attacked in the Clementi area where he lived, suffered bruises and cuts as he rained punches on them, even physically dragging them along the ground towards secluded spots.
The 69-year-old woman, who was walking home from Clementi bus interchange on July 12 in 2004, tried to run when she saw him trailing her but was waylaid. She fell and was dragged along a footpath to an unused railway track beneath the Clementi Avenue 6 flyover.
He stripped her, made her perform oral sex on him and raped her. She lodged a police report that night.
On March 10 last year, he set upon an 18-year-old foreign student as she walked along a footpath talking to her father on her mobile phone.
He grabbed her Nokia phone and then tried to rip her panties off. In the middle of the struggle, he suddenly gave up and ran off with the phone. Her roommate called the police when she reached home.
The next morning, a 20-year-old student was not so fortunate. Walking back to school after completing a 2.4km run as part of her physical education class, she was waylaid while walking along a footpath near the Ulu Pandan Park Connector.
She was dragged into some bushes and punched when she started to scream. She was then ordered to strip. The crying young woman told him she was a virgin. Sashi Kumar sodomised her twice.
He was arrested near his flat on April 14 last year.
The tall, sturdy-looking man confessed to rape, robbery, abduction and unnatural sex.
His lawyer said Sashi Kumar did not want him to put forward a case for more lenient treatment. He simply noted that his client had pleaded guilty, had cooperated with the police and was a young offender.
Said Deputy Public Prosecutor Christopher Ong: 'No woman would be safe from the accused when he is 'in the mood' to carry out his depraved attacks.'
The three women had had their peaceful, everyday routines shattered by his terrifying actions.
'A simple walk home should never be an occasion for fear or trepidation,' he said.
---
---
Straits Times, Singapore, 4 February 2006
Parang attack
Jail, cane for brothers who chopped off teen's hand
Prosecution says revenge attack 'vicious, unprovoked'
By Tanya Fong and Khushwant Singh
Muhammad Rudy Ramlee
Muhammad Raymi Ramlee
WITH their heavily pregnant wives looking on, the two teenage brothers appeared in the dock handcuffed together.
A MOTHER'S PAIN: Paramedics taking the brothers' mother to hospital, with Raymi's pregnant wife Anita looking on. The mother had fainted during sentencing. -- AZIZ HUSSIN
They choked back tears as the judge packed them both off to jail and ordered them caned. What they did: Set upon two youths with a parang, slicing off one teenager's hand and slashing the other on the head and back.
Muhammad Rudy Ramlee, 19, will serve six years and be caned 15 times while his younger brother, Muhammad Raymi Ramlee, 18, was sentenced to five years' jail and nine strokes.
All that violence was over a dispute during a soccer game.
Unhappy that Puvaneshvanan Bala, 18, had pushed him during the game, Rudy planned revenge and roped in his brother to help in case he was outnumbered.
He already had a parang hidden in the bushes near Block 421 Jurong West Street 42, where they lived in a four-room flat.
On Nov 30 last year, he retrieved the parang and, along with his brother, approached Puvaneshvanan who was with three others walking along the void deck of the block.
They set upon Puvaneshvanan, who used his left hand to ward off the blows. Rudy sliced it off at the wrist. One of the victim's friends, a 15-year-old boy, ran away but Rudy caught up with him. He slashed him on the back of his head and his body.
The brothers then fled while the two injured teens managed to flag down a passing motorist who took them to Jurong Polyclinic, about 100m away. A medical officer rushed back to the scene to recover the missing hand. He found it lying on the pavement of Block 421.
Puvaneshvanan's left hand was surgically re-attached to his wrist at the National University Hospital. The other victim had the cut on the back of his head stitched up and was discharged.
Yesterday, the brothers pleaded guilty to causing grievous hurt with a dangerous weapon. They could have been jailed for up to 10 years or for life, and be fined or caned.
When he joined his brother in the attack, Raymi was just out of Bukit Batok hostel days earlier. He had been sent there in February last year for engaging in underage sex and theft.
The two brothers, who did not have a lawyer, asked the courts to be lenient. Said Rudy in Malay: 'I am remorseful and I promise not to repeat such mistakes. I'm supporting my parents and will be expecting a child soon.'
Raymi also told the judge his wife was pregnant. Their wives, both 18 and not working, were due to deliver next week.
Deputy Public Prosecutor Robert Tan said the attack was 'vicious and unprovoked' - and District Judge F. G. Remedios seemed to agree.
'Muhd Rudy armed himself and clearly intended to cause serious injuries in his quest for revenge, and his brother supported him in it,' he said.
As he pronounced sentence, the brothers' 48-year-old mother burst into tears and fainted. An ambulance took the woman to the Singapore General Hospital.
Rudy's wife, who wanted to be known only as Salinah, said the two couples were planning to hold a double wedding ceremony this coming December.
'Now, we have to wait till they are released,' she added.
---
---
Straits Times, Singapore, 9 February 2006
Serial molester, 36, posed as psychology student
Father of two, who molested teen in the guise of doing health checks, gets 7 years' corrective training
By Elena Chong
A SERIAL molester posed as a psychology student and outraged the modesty of a 17-year-old girl on the pretext of checking her chest and legs for lumps.
IMPOSTER: Raffi, who will also be caned, told the teen he was an NUS student.
Mohamed Raffi Mohamed Kunju, 36, who was convicted of similar offences in 1995 and 2002, was yesterday sentenced to seven years' corrective training and 12 strokes of the cane.
He was found guilty on three charges of molesting the teen at a block of flats in Bedok North Avenue 2 in September 2004.
The court had postponed sentencing to yesterday, pending preventive detention and corrective training reports.
Two more charges of molesting a 16-year-old at Marine Parade Regional Library last June were taken into consideration when Raffi was sentenced.
The father of two pleaded, through lawyer Christina Goh, for one last chance to be sent to prison instead of corrective training.
He preferred jail because corrective training, meant for repeat offenders, carries no chance of early release.
The victim had told the court that Raffi identified himself as 'Reimy' when they met at the Bedok Community Library.
He told her he was studying psychology at the National University of Singapore and led her to the 25th level staircase landing of a nearby block.
On the pretext of checking her chest for lumps, he slid his hand under her blouse and massaged her.
On the pretext of checking her legs for lumps, he slid his hand under her skirt and massaged her thighs.
He also touched her buttocks after asking her to bend over to check her reflexes.
He then persuaded her to sit on his lap, purportedly to test her level of concentration.
When she was anxious to leave and was on her way down in the lift, he hugged her from behind.
At the void deck, they exchanged telephone numbers.
Later that evening, she thought about the incident and realised she had been tricked.
She sent Raffi a short text message and he called her back. She made a police report the next day and picked him out at an identification parade nine months later.
Raffi, a sales executive, had claimed trial and called his supervisor to testify that he was in the office at the time of the offences.
But the prosecution argued that the supervisor was a biased and untruthful witness.
Raffi also claimed that the victim had identified him wrongly.
Deputy Public Prosecutor Deborah Tan told the court that the victim had believed Raffi's acts were part of a 'health check' by a qualified and experienced psychologist.
The naive and gullible young girl even thought that a psychologist was the equivalent of a medical doctor.
---
---
Straits Times, Singapore, 11 February 2006
Stepdad jailed for molesting girl
By Elena Chong
A MAN caught in a toilet with the daughter of his second wife admitted molesting her almost 5½ years ago.
His wife forgave him and did not make a police report after he apologised and promised not to do so again. The girl was then five years old.
But he broke his promise soon after and continued to abuse her until 2003.
Yesterday, the 38-year-old lift technician was jailed for 13½ years and ordered to be given 12 strokes of the cane.
He pleaded guilty to five charges - three for making the girl perform oral sex on him and two for outrage of modesty.
Nine other similar charges were taken into consideration.
The court heard the man, who is a divorcee with a son, married the girl's mother, a single parent, in May 1998, a year after his divorce.
Shortly after the couple moved into their new flat in 2000, he made the girl perform oral sex on him in March and again between July and August.
In September that year, he woke the girl up and took her to the toilet in the kitchen and molested her.
When he opened the toilet door, he was confronted by his wife.
He remained silent. But later, at a family meeting, he admitted molesting the girl and apologised, promising never to do it again. His wife, then 21, forgave him.
But about five months later when his wife was in Malaysia, he molested the girl and made her perform oral sex on him again.
It was only in July last year that the girl told a male teacher that her stepfather had molested her. The teacher referred her to a woman colleague who was also a counsellor.
The school then notified the Ministry of Community Development, Youth and Sports.
The man was arrested on July 20 last year.
Pleading for a lenient sentence, his lawyer, Mr Wee Pan Lee, said he was extremely remorseful. His wife, now 26, who has three children by him, has forgiven him and is prepared to accept him when he completes his jail sentence.
The lawyer said the man admitted he has a high libido and is prepared to undergo counselling.
The Straits Times understands that the girl has been fostered out.
Copyright © 2005 Singapore Press Holdings. All rights reserved.
---
---
Straits Times, Singapore, 11 February 2006
Vicious attack with pole left man dead
AN UNEMPLOYED homeless man has been sentenced to four years in jail and four strokes of the cane for a vicious, apparently unprovoked attack on a man who later died of his injuries.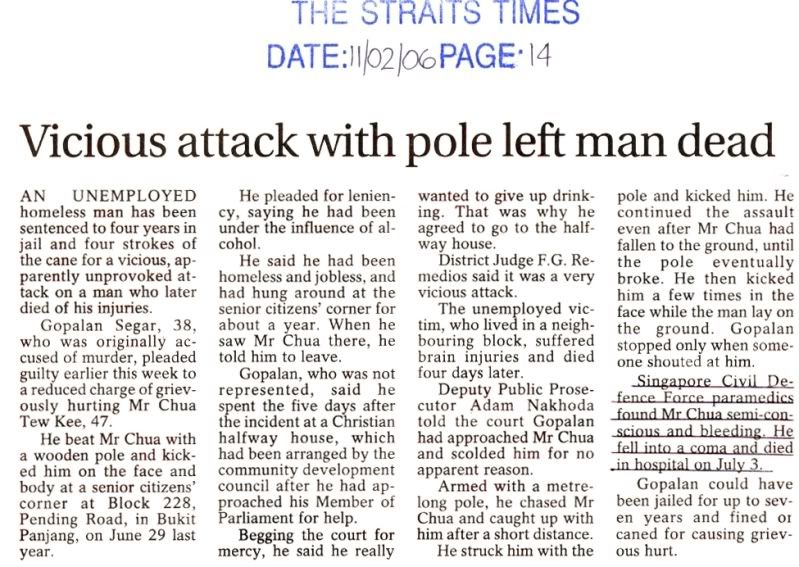 Click to enlarge
Gopalan Segar, 38, who was originally accused of murder, pleaded guilty earlier this week to a reduced charge of grievously hurting Mr Chua Tew Kee, 47.
He beat Mr Chua with a wooden pole and kicked him on the face and body at a senior citizens' corner at Block 228, Pending Road, in Bukit Panjang, on June 29 last year.
He pleaded for leniency, saying he had been under the influence of alcohol.
He said he had been homeless and jobless, and had hung around at the senior citizens' corner for about a year. When he saw Mr Chua there, he told him to leave.
Gopalan, who was not represented, said he spent the five days after the incident at a Christian halfway house, which had been arranged by the community development council after he had approached his Member of Parliament for help.
Begging the court for mercy, he said he really wanted to give up drinking. That was why he agreed to go to the halfway house.
District Judge F.G. Remedios said it was a very vicious attack.
The unemployed victim, who lived in a neighbouring block, suffered brain injuries and died four days later.
Deputy Public Prosecutor Adam Nakhoda told the court Gopalan had approached Mr Chua and scolded him for no apparent reason.
Armed with a metre-long pole, he chased Mr Chua and caught up with him after a short distance.
He struck him with the pole and kicked him. He continued the assault even after Mr Chua had fallen to the ground, until the pole eventually broke. He then kicked him a few times in the face while the man lay on the ground. Gopalan stopped only when someone shouted at him.
Singapore Civil Defence Force paramedics found Mr Chua semi-conscious and bleeding. He fell into a coma and died in hospital on July 3.
Gopalan could have been jailed for up to seven years and fined or caned for causing grievous hurt.
Copyright © 2005 Singapore Press Holdings. All rights reserved.
---
---
Straits Times, Singapore, 14 February 2006
4 years' jail and cane for hacking flatmate
By Elena Chong
AN UNEMPLOYED man who hacked his flatmate with a chopper has been sentenced to four years' jail and three strokes of the cane.
IN TROUBLE BEFORE: Seah had previous convictions for violence and drug offences.
Seah Seow Kuan, 46, yesterday admitted to seriously hurting driver Lee Yu Meng, 35, at the flat they shared in Block 21, Chai Chee Road on the night of Oct 30 last year.
Defence lawyer Mervyn Tan told the court that Seah had a few drinks and got into a fight with Mr Lee.
Police arrived and broke open the flat's front door to find Seah holding two choppers and kneeling beside Mr Lee, who was lying face up on the floor.
The victim suffered facial fractures and multiple cuts on his arms and chest. He was warded for five days.
Pleading for leniency, the lawyer said Seah last worked as a foreman and had many failed business ventures. The father of one is separated from his family and has been living with his girlfriend for the past eight years.
Mr Tan said Seah was also injured during the fight and needed 13 stitches for cuts on his wrist, shin and jaw.
An Institute of Mental Health report stated that Seah suffered from alcohol dependence and was not of unsound mind at the time.
Seah, said Mr Tan, was not a violent man but had acted under severe mental stress. He had apologised to the victim and they have reconciled.
The lawyer also told the court that he understood action might be taken against the victim.
District Judge F.G. Remedios noted that Seah had one conviction for violence in 2002 and several for drugs and drug-related offences.
Seah had been detained in 1979 for drug-related activities and had also been in and out of drug centres. He could have been jailed for up to 10 years and fined or caned for causing grievous hurt.
---
---
Straits Times, Singapore, 24 February 2006
Guard got teen, friends to help beat up man
Accused sentenced to 2 years' jail, 3 strokes of the cane
By Elena Chong
A SHOPPING centre security guard who argued with a man for sitting on a children's ride later enlisted the help of a few youngsters to teach him a lesson.
PUNISHED: Ho (above) got a 14-year-old and his friends to teach Mr Ng Lim Hee 'a lesson'.
Ho Hwee Jin, 44, phoned a 14-year-old friend and asked him to help beat up Mr Ng Lim Hee, 23, a sales assistant.
Yesterday, Ho admitted abetting the teen and six of his friends to commit rioting by hurting Mr Ng at Lot 1 Shoppers' Mall at Choa Chu Kang Avenue 4 about 2am on Nov 20 last year.
He was sentenced to two years' jail and three strokes of the cane. He could have been jailed for up to five years.
Mr Ng suffered multiple bruises on his scalp and forehead, cuts, and a fracture at the base of his left eye.
Assistant Public Prosecutor Olivine Lin told the court that on the evening of Nov 19, Ho told Mr Ng not to sit on the kiddy ride. They had an argument. Mr Ng then left with his two friends to catch a movie at a theatre in the shopping centre.
Ho then rang his 14-year-old friend and complained about Mr Ng, telling him to come down to help him 'teach the victim a lesson'. He said he could not do it as he was in uniform and on duty.
When the boy arrived with six friends, Ho described Mr Ng and gave them an undisclosed sum of money to buy refreshments and cigarettes.
After a discussion, the youths decided that one of them - Teo Keng Guan, 18 - would bump into the victim and the other six would rush to attack him.
When the movie ended at about 2am, Teo did as planned and had a verbal altercation with Mr Ng. The accomplices then assaulted the victim and warned his friends not to interfere or they would be beaten up as well.
The group dispersed when they heard someone shout that the police were coming.
Teo, who was in court yesterday with Ho, also admitted hurting Mr Ng while being part of an unlawful assembly with seven others.
Two other charges, including theft of a $688 phone from the victim, will be considered when Teo is sentenced on March 22 pending probation and reformative training reports.
Five of the remaining six, including two juveniles, have been dealt with after pleading guilty in separate courts.
One is due for sentencing on March 7.
Ho's lawyer, Mr G. Dinagaran, said his client, a security guard for six years, resigned recently and was now jobless. He regretted what he had done and promised not to repeat the offence.
District Judge F.G. Remedios said at Ho's age, he had set a very bad example and that his conduct could not be condoned.
Ho had convictions for bookmaking and fighting.
---
---
Straits Times, Singapore, 24 February 2006
For some visitors, the booty is the draw
By Ben Nadarajan
(extracts)
THE only sights that Chinese tourist Zhong Zili was interested in seeing in Singapore last October were the insides of condominiums and houses.
He was a burglar.
A group of 10 Vietnamese tourists hit the malls as soon as they arrived last November.
They were a tour group of pickpockets and shoplifters.
Two Malaysian women went on a shopping spree for expensive watches, jewellery and clothes. But they used fake credit cards.
All these foreign crooks had entered Singapore as tourists.
Last year, the police arrested 792 such visitors, 11 per cent more than the 714 caught in 2004.
In all, 2,700 foreigners were arrested last year, the majority being those here on work permits. Over half the cases were theft-related, such as pickpocketing, shoplifting and housebreaking.
Foreigners made up about 13 per cent of all those arrested for committing crime here.
[...]


Picky burglar:

Chinese national Zhong Zili targeted private houses and condos in October last year. The 31-year-old made off with $33,250 in cash and valuables in just three days. In one break-in, he stabbed a 35-year-old woman with a pair of scissors.
He pleaded guilty to housebreaking and hurting the woman, and was sentenced to six years' jail and 12 strokes of the cane in November last year.
Chinese national Zhong, for instance, knew he would reap more from private houses and condominiums than Housing Board flats, said investigating officer Tan Lee Teck, who was responsible for his arrest.
From his Geylang budget hotel, the 31-year-old former construction worker from Shenzhen took buses to several private estates. In just three days, he made off with $33,250 in cash and valuables.
Zhong had been in and out of Singapore several times before his arrest last year, but denied doing anything wrong on his earlier trips. They could have been recce missions.
On his latest visit, he entered three homes easily through open windows. He reached the third-storey window of a house in Siglap by clambering up air-conditioner compressors fitted against the wall.
At a condominium in Eunos, he scaled up a sewage pipe to get to the unlocked windows of two second-storey units.
In one break-in, he woke a sleeping 35-year-old woman while ransacking her bedroom. He stabbed her with a pair of scissors.
But Zhong made the mistake of trying to sell his loot here.
A pawnshop owner recognised the items, including brand-name watches and jewellery, from routine police alerts that give details of stolen goods.
The father of a baby boy was arrested near his hotel. He pleaded guilty to housebreaking and hurting the woman, and was sentenced to six years' jail and 12 strokes of the cane.
Senior Station Inspector Tan, 40, said it was a good thing Zhong was caught quickly.
'Foreigners, especially those here for only a few weeks, are generally harder to trace,' he said.
Once they leave, it becomes harder to nab. And even if they return, they would have disposed of the loot.
Unlike Zhong, most other thieves sell their stolen goods in their own countries or at their next destination.
Which was what the Vietnamese gang that came in November had planned to do, said investigating officer Bernard Oh, who arrested them.
The two men and eight women, aged between 29 and 54, had stolen $9,000 worth of mobile phones and clothes. They went to crowded city shopping centres and suburban malls. They stole from shoppers and shoplifted clothes, which they stuffed into bags, and made off with them.
The loot was found stashed in suitcases in a Bedok HDB flat, which the gang had rented from a Thai woman.
They were jailed for between five and 12 months.
'They struck during the festive season of Christmas when they knew shoppers would be less guarded,' said Inspector Oh, 28.
The gang's passports showed that the group had come here several times, and had gone to various neighbouring countries as well.
Senior Assistant Commissioner Tan said gangs like this one often travel from one city to another on stealing trips. They target major cities in the region, such as Bangkok, Hong Kong, Kuala Lumpur and Singapore.
Singapore police share information on such gangs with their counterparts in these cities, he said.
There are also syndicates which use fake credit cards to buy goods and then flee the country.
In February last year, two Malaysian women were jailed 66 months each for cheating retailers here out of $104,440.
Armed with five fake cards apiece, they were driven in and out of Singapore from Johor Baru several days a week to do their 'shopping'.
The syndicate paid them a cut of up to 30 per cent of the money made from the goods subsequently resold.
Visitors also figure in drug arrests here.
More than half of the 100 foreigners whom the Central Narcotics Bureau picked up last year were visitors. Of the latter, slightly more than half were arrested for trafficking, and the rest for consuming or having drugs.
Those found to have taken drugs are repatriated. Though not prosecuted, they may be blacklisted and stopped from entering Singapore again. Traffickers, however, are charged.
Police spokesman Tan said that with Singapore aiming to attract more tourists, the trend of tourist-crooks may be inevitable.
'When you open the window, you not only get fresh air coming in, but also the flies,' he said.