Straits Times, Singapore, 7 April 2005
Six years, caning for high-society trafficker
Temporary reprieve on a charge of trafficking in 21.67g of cocaine as co-accused has fled
By Selina Lum
(extract)
CONVICTED drug trafficker Marx Oh, who first escaped the gallows and then at least 20 years' jail, was yesterday jailed for six years and ordered to be given five strokes of the cane.
CASE CLOSED: Oh's sentencing brings to a close the high-society drug saga, except for three men who fled Singapore. -- LAU FOOK KONG
The 32-year-old, who ran his own events management firm and was a part-time disc jockey, was one of two alleged leaders of a cocaine ring charged with drug trafficking.
He was arrested at his Hyde Park Gate home in Seletar last October in a Central Narcotics Bureau raid.
At first, it seemed that Oh, as well as Tunisian Guiga Lyes Ben Laroussi, 35, now a fugitive, faced the death penalty for trafficking in more than 30g of cocaine.
But laboratory tests showed the actual amount to be below the capital punishment limit.
[...]
In December, when the charges against him were reduced, it looked like Oh was still facing between 20 and 30 years' jail and 15 strokes of the cane for trafficking in 21.67g of cocaine.
But yesterday, he was given a discharge not amounting to an acquittal for this and another trafficking charge.
This was because the key witness in these charges is none other than the alleged co-ringleader Laroussi, who absconded in February. Thus, Oh gets a reprieve until the Tunisian is captured.
However, Oh was given the minimum five years' jail and five strokes of the cane for trafficking in 0.56g of cannabis mixture by giving the drug to Sri Lankan Jeremy Mahen Chanmugam.
He was also given one year's jail for possessing 16.25g of cannabis, to be served consecutively.
Last month, he was given a year's jail for possessing cocaine and cannabis.
In mitigation, on the trafficking charge, his lawyer, Mr Subhas Anandan yesterday noted that no money changed hands.
The sentencing of Oh, who remains the only one convicted of trafficking, brings to a close the headline-grabbing saga of high-society drug abuse, except for the cases of three men who fled Singapore.
Out of 23 people nabbed, 14 were hauled to court. The others, including rapper-actor Sheikh Haikel and directors of small companies, were released after their urine tests proved negative.
Also cleared was TV presenter Cheryl Fox, who was not among those picked up but who was asked to give a urine sample. She was said to be friends with Oh and was spotted having a meal with him one day before the raid.
[...]
Later, Mr Anandan, who acted for five of the accused, told The Straits Times: 'The courts have driven home the point that there's no group of people that will be spared or given special treatment.
'Whether you are rich or the elite, the law will come down hard on you,' he said. 'If you are caught, you are dead meat.'
---
---
The New Paper, Singapore, 10 April 2005
Nabbed: 'King of Snatch Theft'
He can't recall how often he stole
He was known to the police only as the Phantom Rider.
By Zaihan Mohd Yusof
(extract)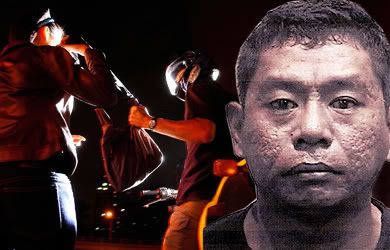 HE was known to the police only as the Phantom Rider.
For two years, until August 2004, he stole motorcycles and used them for snatch thefts.
By the time he was finally caught, Jaffry Mohamed claimed he could not remember just how many times he had stolen.
Finally, in September last year, he was nabbed after pinching seven motorbikes and committing 16 snatch thefts.
It then emerged that this was his second epic bike-snatch spree: In 1995, then a 28-year-old drug supervisee and odd-job labourer, he had been jailed nine years and caned 14 times.
From at least 38 snatch thefts and three motorcycle thefts, he had netted $26,429 in cash and valuables.
Fast forward to 2002.
Investigators from four police divisions began seeking the cunning Phantom Rider.
Recalled Sergeant Abdul Halim Abdul Shukor, lead detective from Ang Mo Kio police division: 'He was an opportunist who targeted the vulnerable at random. With one hand on the throttle, he was skilful enough to grab his victim's handbag and escape on the motorbike.'
The thief was careful not to leave any forensic evidence on the bikes he used and later abandoned.
AVOIDED BUSY AREAS
Snatching at night, he avoided busy areas and chose victims walking alone on pavements or service roads. This ensured he was never identified.
A few victims did remember the licence plate numbers of the stolen bikes used.
The crook would also not hang on to his stolen bike for long - as Jaffry used to in 1995.
Said Senior Station Inspector (SSI) Azmi Othman, 38, the officer-in-command of the Motor Vehicle Theft (MVT) unit at Ang Mo Kio: 'Once he had stolen a motorcycle, Jaffry would commit snatch thefts within the same day. And on the way back home, he would abandon the stolen motorcycle.'
He used skeleton keys to steal bikes - choosing only two-stroke vehicles which were quieter and faster, said Sgt Halim.
His victim on 26 Aug last year was Ms Joyce Ang, a civil servant.
Said Ms Ang, 29, a Buangkok Crescent resident: 'I had just got off the bus and was walking along the driveway near my block when I felt a tug on my handbag. I was too shocked to realise what had happened.
'I've lived here for three years and it has always been peaceful. I didn't expect this to happen. Maybe it's because I didn't hear him coming from behind.'
All she recalls is a muscular man wearing a jacket, gloves and a helmet with a tinted visor. She lost $1,000 in cash and valuables.
ABANDONED BIKES
Added Ms Ang: 'I was still terrified a few weeks after the incident. Every time I walked home, I would avoid the area because he might still be lurking around.'
Jaffry's 15 other snatch theft victims told similar stories.
The police worked hard to find clues: The Ang Mo Kio MVT unit did notice that bikes stolen in the West, like in Bukit Batok and Bukit Merah, would be recovered in Sengkang.
Motorcycles stolen in Sengkang, however, were also found abandoned in the West.
Then, after 13 cases in 2002, the trail went cold.
In 2003 only three cases were reported that fit the pattern of using stolen motorcycles as getaway vehicles in snatch thefts.
In August 2004, the break finally came: The police arrested a youth for riding a stolen motorcycle that had been used in a snatch theft.
The bike was given to him by a shipyard worker, known only as 'Abang Long' or Brother Long, the youth said.
Over the next few days, Station Inspector Sudesh Kumar and Sgt Mark Liew discreetly questioned shipyard workers.
Said Sgt Liew, 29: 'Most didn't know who 'Abang Long' was. Finally we were told that the suspect liked to frequent a hawker centre at Bukit Merah.'
The police soon had a name too.
Said Sgt Halim: 'We did our screening and found out that Jaffry had a previous record of committing the same type of crime. But we still couldn't be sure if it was he who was behind the string of thefts.
'His IC stated he lived in Bukit Merah. So how was he linked to the stolen bikes recovered in Sengkang and the snatch thefts?'
A few more days of late-night stakeouts produced the answer.
The police learnt that Jaffry, now 38, had a second home in Sengkang.
It was his second wife's home - and most of the stolen bikes were recovered near that address.
In late September last year, the police even spotted a stolen motorcycle under his wife's flat.
They wanted to nail Jaffry in the act of riding a stolen bike - but he never did.
ADMISSION
So, fearing he would leave the country, as he frequently did, the police arrested Jaffry at the Sengkang flat.
Said Sgt Halim: 'He was calm when we arrested him. He knew that none of the stolen items would be found at his home.'
It took a day of interviews before Jaffry admitted to the motorcycle thefts.
He took the MVT team to the locations where he had stolen, and later abandoned, the motorcycles.
Said SSI Azmi: 'He admitted stealing the motorcycles, including the one under his wife's flat.'
However, Jaffry was still 'playing a game with us', SSI Azmi recalled, 'thinking we didn't know about the snatch thefts.
'But the motorbikes he had stolen had also been used in the snatch thefts, according to the victims' accounts.'
The police grilled Jaffry again.
'After another gruelling session of interviews, he finally confessed to the snatch thefts. He told us where he did the snatch thefts. It tallied with our investigations.'
JAIL, CANE
Said Sgt Abdul Halim: 'I'm convinced he was involved in more thefts, but the only problem was he couldn't remember.'
Jaffry was convicted on 31 Dec 2004 to 10 years' jail and six strokes of the cane.
The prosecution had proceeded with five charges - two snatch thefts, two vehicle thefts and one of riding without insurance.
The Phantom Rider's second crime spree had netted him $4,200 in cash and valuables before he was caught.
[...]
Copyright © 2005 Singapore Press Holdings Ltd. Co. Regn. No. 198402868E. All rights reserved.
---
---
Straits Times, Singapore, 20 April 2005
Rapist gets 21 years, 24 strokes
Judge blasts illegal's vile act as deserving of severe sentence
By Elena Chong
AN ILLEGAL immigrant who dragged a screaming woman to an enclosed rubbish area in Woodlands and raped her was yesterday handed a severe sentence.
Justice V.K. Rajah jailed V. Murugesan, 28, for 21 years for abduction and rape, and ordered him to be given the maximum 24 strokes of the cane.
The judge rebuked the Indian national for showing absolute contempt for all norms of civilised behaviour and acting as if he was subject to the laws of the jungle.
The audacious and wanton manner in which the crimes were carried out in the built-up Woodlands housing estate was both outrageous and abhorrent, he added.
On March 5 last year, Murugesan and an accomplice abducted the Malaysian victim and dragged her to the refuse area at Block 715, Woodlands Drive 70.
The woman's screams had alerted residents in the nearby flats, who called the police. One young man interrupted the pair as they were taking turns to attack the woman.
The two escaped, but were captured more than a fortnight later.
The accomplice, Manikkam, 30, has already been sentenced to 14 years' jail and 10 strokes of the cane for his part in the crime, including attempted rape.
The judge said Murugesan had 'orchestrated the incident' and needed to be punished severely both as retribution and to deter others who might contemplate rape.
'Rape is one of the most heinous and vile crimes proscribed under our laws. It is an abominable crime which leaves the victim with permanent emotional scars,' said Justice Rajah.
Rapists need to be punished not only for the physical harm they inflict, he said, but also for the lifelong trauma, debilitating emotional distress and anguish they inflict on their victims.
'In the circumstances, draconian sentences are called for,' said the judge.
Murugesan was sentenced to 14 years and 14 strokes for rape, seven years and seven strokes for abduction, and one month and three strokes for illegal entry.
The sentence for illegal entry is to run concurrently, while the rape and abduction sentences will run consecutively.
He was also fined $3,000 for having another person's identity card.
Although semen found on the victim's underwear provided a positive DNA match to Murugesan, he maintained his innocence to the end.
'I was brought up with virtue,' he told the judge yesterday.
'I was born in Tamil Nadu, which respects women as goddesses.'
Copyright © 2005 Singapore Press Holdings. All rights reserved.
---
---
Straits Times, Singapore, 22 April 2005
Serial offender in jail again for axe threat
A LANDLORD with a 30-year history of violence dating back to 1976 was yesterday put behind bars for at least the fifth time.
NOT THE FIRST TIME: Yeo has been jailed at least four times before.
Yeo Leong Hock, 48, was sentenced to seven years of corrective training and given 12 strokes of the cane for threatening a housing agent with an axe.
A district court heard that on Feb 3, Yeo was visited by housing agent Teow Lea Peng, 31, who had rented his Aljunied flat to two foreigners. Ms Teow had wanted to discuss arrangements to extend their stay.
But Yeo became angry when Ms Teow told him she did not have original copies of the tenants' work permits as the Ministry of Manpower had not yet issued them.
When Ms Teow asked him to return the one-month deposit the tenants had given him, Yeo told her in Mandarin that he was going to call some people to the flat and 'the show is going to start'.
He then produced an axe and placed it on top of a coffee table.
'If the agent does not do proper work in producing the work permit, I will use the axe,' Yeo shouted at her, this time in Hokkien.
Yeo was also convicted yesterday of voluntarily causing hurt to his girlfriend in 2001.
Yeo had been on the run from the authorities since the 2001 offence, and was arrested only in February this year following a police report made by Ms Teow.
He has been jailed at least four times before - twice for voluntarily causing hurt, once for a sexual offence, and once for fraud.
---
---
Straits Times, Singapore, 30 April 2005
Snapped indecent photos of girl, 16
Jail, cane for man who posed as private eye and threatened teenager he caught necking
By Arthur Poon
A JOBLESS man, posing as a private detective, tricked a teenage couple he found necking into his car.
BLACKMAIL: Manivanan lied to the couple that he had been hired to trail them. He then threatened to tell their parents about their necking in public before taking obscene photos of her in his car.
Manivanan Vulakanathan, 31, lied to them that he had been hired by the girl's school to investigate their relationship.
After letting the boy go, he took the 16-year-old girl to a secluded spot, forced her to strip in his car and took obscene pictures of her with his digital camera.
He then threatened to publish them in newspapers and on the Internet if she failed to meet him again. He was reported to the police.
Yesterday, Manivanan was jailed for a year and ordered to be given six strokes of the cane, after he pleaded guilty to two counts of outraging the girl's modesty.
Two other charges were taken into consideration in the sentencing.
A district court heard that on Jan 20 at about 3pm, Manivanan spotted the 16-year-olds 'behaving intimately' on the 14th floor landing of a block of flats in Bukit Batok.
The pair, who cannot be named to protect their identities, are students at different secondary schools in the western part of Singapore.
Fearing the man would expose their relationship to their parents, the teens obeyed him.
While Manivanan was driving around Bukit Batok, the boy's mother called his mobile phone to ask if he would attend his German language class that afternoon.
Manivanan allowed the boy to get off at Bukit Batok Bus Interchange. He then drove to a secluded carpark near Bukit Batok Nature Park where he questioned the girl about her relationship with the boy and threatened to tell her parents about it.
On the pretext of checking whether she had any love bites on her body, he told her to remove her blouse and bra. She fearfully obeyed as Manivanan snapped pictures of her topless.
He also took pictures of her private parts after ordering her to remove her panties and hold up her skirt.
An hour later, he left her at King Albert Park, saying he would call her four days later to arrange another meeting.
Before he left, he threatened her: 'If you don't meet me, I will put your photos on the newspaper and Internet.'
On the day she was supposed to meet him, the girl confided in her teacher who informed the police. The police went to the arranged meeting place and arrested him.