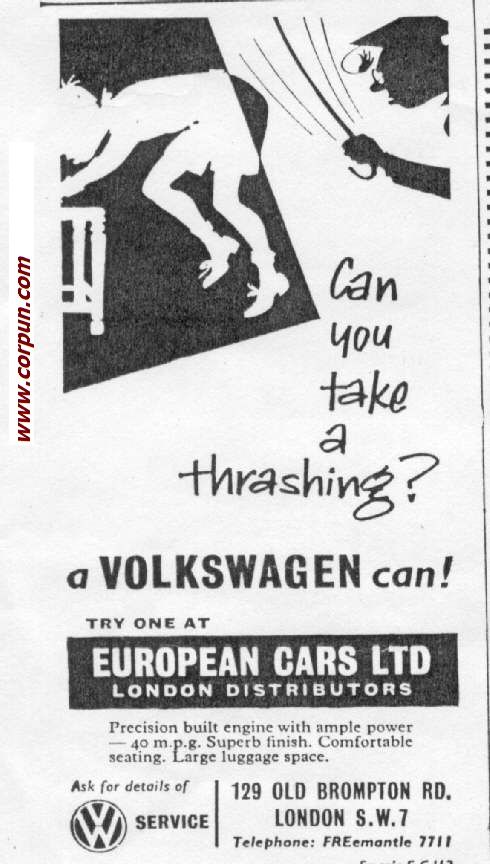 1960: EUROPEAN CARS.
This miniature gem is from Autocar magazine (London) in March 1960. In a space less than two inches square, the artist tells us in detail what is happening.
A traditional British schoolboy in short trousers bends over in the headmaster's study. His long socks have fallen down around his ankles as he does a little jig under the onslaught of the pain in his backside. None the less, he manages to hold on to the chair as instructed -- this is a boy who looks as if he has been here before, and he can "take a thrashing".
The headmaster, in his traditional mortarboard complete with dancing tassle, wears a grimly determined expression as, no doubt with years of experience, he applies his swishy cane accurately to the very centre of the target area, which the artist cleverly highlights by the use of reversed-out silhouette and diagonal lines, very typical of the graphic design of the era.
And what is all this in aid of? Once again, as in the Havoline ad, the picture has no direct connection with the product. It is a peg on which to hang a jocular double meaning.
I find the device particularly effective in this case, since the phrase "[able to] take a thrashing" actually was (is) commonly used of vehicles that are exceptionally sturdy and robust, as the Volkswagen famously was in those days.
And the notion of "a thrashing" as being capable of referring specifically to formal corporal punishment in a school context would likewise be familiar to Autocar's 100% male, middle-class readership, many of whom would have attended that sort of school themselves and who, even if they hadn't, would recognise all the allusions from the once-ubiquitous school stories and comics.
---
NEXT PAGE:
1960s: Cheez-It Cheese Crackers