Kvällsposten, Malmö, 28 April 1983, p.13
Spanked by a policeman ...
By Göran Svedberg
[Unofficial English translation]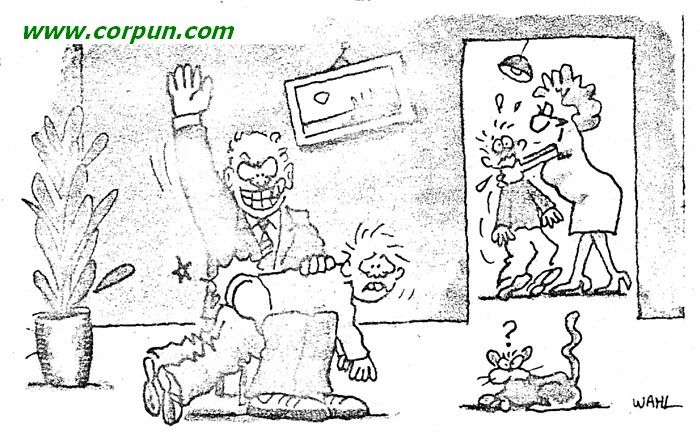 MALMÖ -- Fines or a spanking!
That was the choice given to two 12-year-old boys by a policeman. He wanted to administer the hiding himself.
They chose the hiding.
Quite unnecessarily. The policeman was an impostor.
It happened the other day in Malmö. Two boys were out cycling. On the same bicycle.
A man in plain clothes about 40 stepped out into the street and stopped them with an authoritative look on his face.
-- I am a cop. You know it's forbidden to ride two on one bicycle, he said and asked for their names.
Lied their heads off
Both boys lied their heads off, of course, but one of them, probably by mistake, gave his real address.
The following day, the doorbell rang at the home of one of the boys. He was out, but his mother opened the door.
Outside stood the man. He identified himself as a policeman, stepped in and explained that he intended to wait until the boy came home.
Came home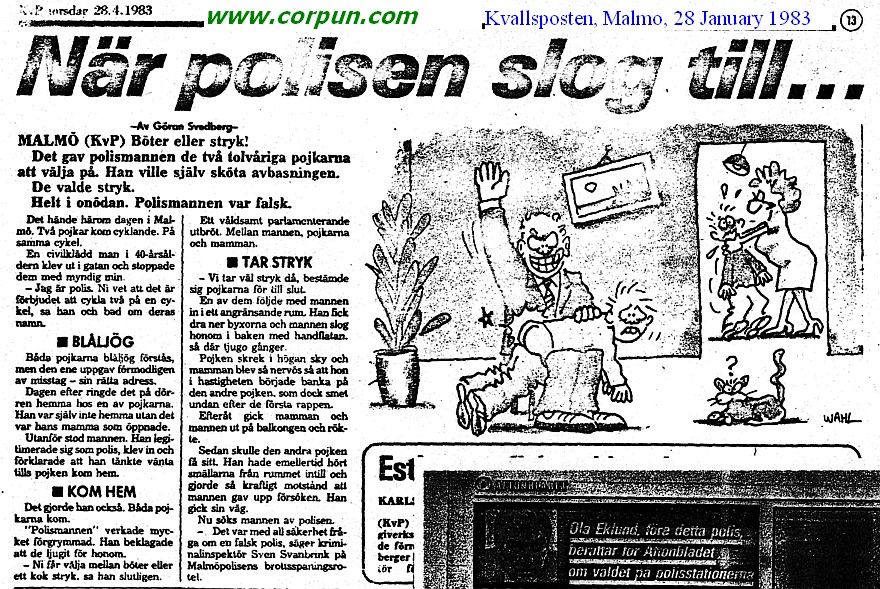 Click to enlarge
And he did. Both boys arrived.
The "policeman" seemed very angry. He complained that they had lied to him.
-- You have to choose between fines and a spanking, he finally said.
A heated discussion began between the man, the boys and the mother.
Took a spanking
-- We'll take the spanking, then, the boys finally decided.
One of them accompanied the man into a neighbouring room. He had to pull his trousers down, and the man spanked his backside with the flat of his hand about 20 times.
The boy screamed very loud, and the mother became so nervous that she started to slap the other boy, who escaped, however, after the first swats.
Afterwards, the mother and the man went out on the balcony and had a smoke.
Then it was to be the other boy's turn. He had heard the forceful whacks from the next room, however, and put up such a strong resistance that the man gave up his attempts and left.
He is now wanted by the police.
-- He was most probably a bogus policeman, said Insp Sven Svanbrink of Malmö CID.