Scope, South Africa, 27 February 1987
Update
The unkindest cut
By Western standards, Islamic justice -- with its predilection for chopping off hands, ears and whatever, plus its penchant for public executions -- seems to be a trifle barbaric.
However, just occasionally they mete out justice in a way which seems far more just and fair than some of the over-lenient and totally unrealistic sentences handed down by courts in the West.
Just such an occasion was the recent public flogging in Karachi, Pakistan of a 22-year-old man convicted of brutally raping a seven-year-old child.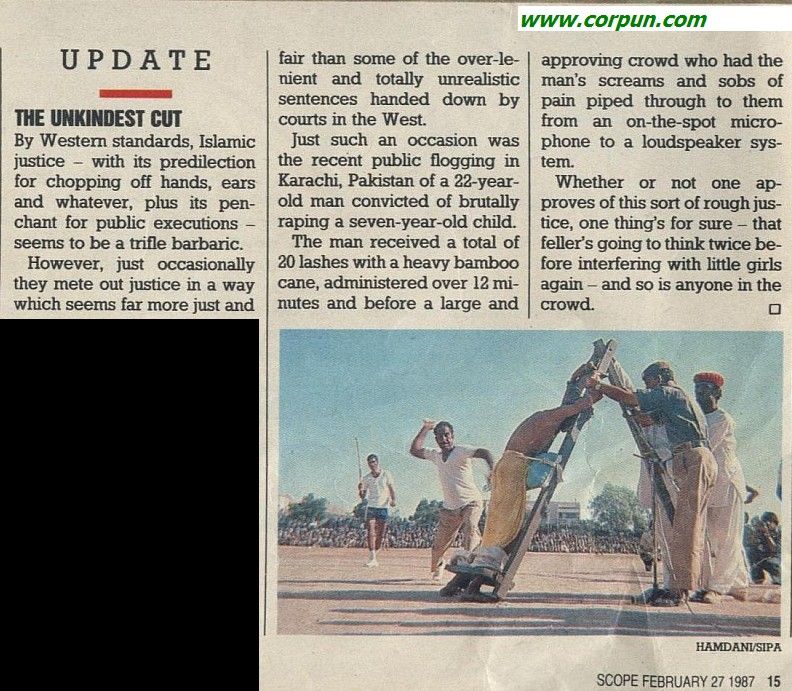 Click to enlarge
The man received a total of 20 lashes with a heavy bamboo cane, administered over 12 minutes and before a large and approving crowd who had the man's screams and sobs of pain piped through to them from an on-the-spot microphone to a loudspeaker system.
Whether or not one approves of this sort of rough justice, one thing's for sure -- that feller's going to think twice before interfering with little girls again -- and so is anyone in the crowd.
---
Note by C.F.: I am not at all sure that this picture is in fact from 1987. It looks to me very similar to the ones published in the late 1970s and very early 1980s. At all events, it clearly shows the same occasion (and the same recipient) as the last picture but one on this page of miscellaneous Pakistan JCP photos.
Country files: Judicial CP in Pakistan