Ashburton Guardian, 7 February 1900, p.3

Click to enlarge
An Ashburton Case.
At the criminal sessions of the Supreme Court, Timaru, which commenced on Monday, Bartholomew O'Loghlin, a lad of 16, pleaded not guilty to a charge of indecently assaulting a girl of 11½ years at Seafield, Ashburton, on December 19.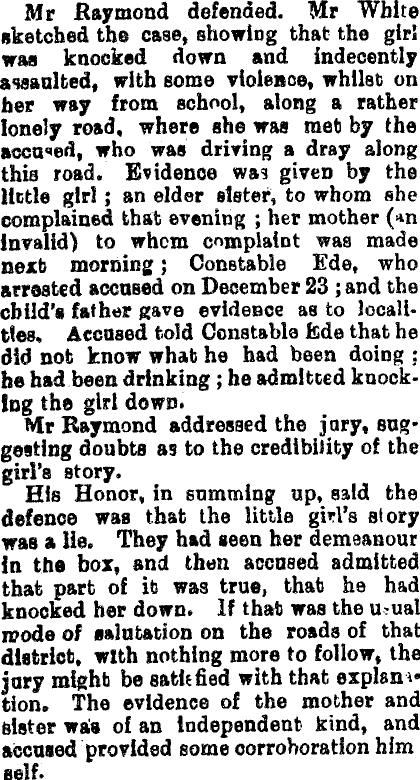 Click to enlarge
Mr. Raymond defended. Mr. White sketched the case, showing that the girl was knocked down and indecently assaulted, with some violence, whilst on her way from school, along a rather lonely road, where she was met by the accused, who was driving a dray along this road. Evidence was given by the little girl; an elder sister, to whom she complained that evening; her mother (an invalid) to whom complaint was made next morning; Constable Ede, who arrested accused on December 23; and the child's father gave evidence as to localities. Accused told Constable Ede that he did not know what he had been doing: he had been drinking; he admitted knocking the girl down.
Mr. Raymond addressed the jury, suggesting doubts as to the credibility of the girl's story.
His Honor, in summing up, said the defence was that the little girl's story was a lie. They had seen her demeanour in the box, and then accused admitted that part of it was true, that he had knocked her down. If that was the usual mode of salutation on the roads of that district, with nothing more to follow, the jury might be satisfied with that explanation. The evidence of the mother and sister was of an independent kind, and accused provided some collaboration himself.
Click to enlarge
The jury retired at 5.10 p.m. and at about 6 p.m. returned with a verdict of guilty.

The lad was just over 16, the limit of age for birching, but at the father's request His Honour ordered a birching to be administered by the police, accused to come up for further sentence if called.
---
---
Nelson Evening Mail, 27 February 1900, p.2
Industrial School Escapees.
Click to enlarge
At the Magistrate's Court this morning, before Mr. Howorth, S.M., Clarence Shepherd, an inmate of St. Mary's Industrial School, was charged with having absconded from the institution on the 15th instant, and pleaded guilty. Sergt Mackay said the lad, with another named Skelton, had escaped from the Orphanage, and was found on the road to Havelock. Sergeant Mackay said the police had considerable trouble in these cases of frequent absconding from the institution, and he pointed out that when the lads were sent back without punishment the good effect was lost. He would ask that before Shepherd was returned to the institution he be birched. The Magistrate complied with the request, and ordered the infliction of ten strokes with the birch before the accused was returned to St. Mary's Industrial School.
Country files: Judicial CP in New Zealand
Archive up to 1975: Corporal punishment in New Zealand