Click to enlarge
nettavisen.no, Oslo, 20 May 2009 (unofficial English translation)
Lyn players are birched on the butt
"I started to bleed," says Indridi Sigurdsson.

By Dag Langerød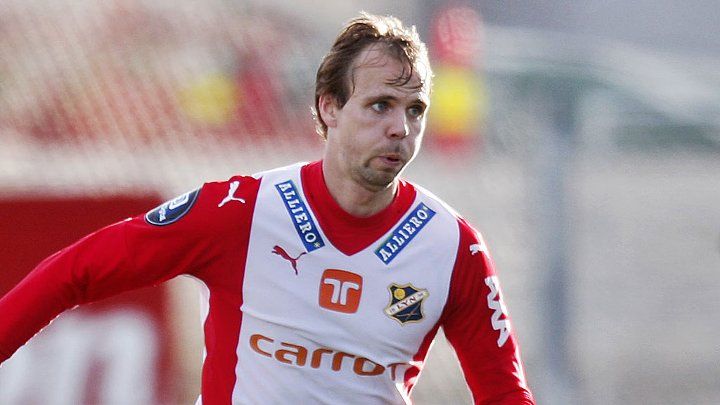 BLED: Indridi Sigurdsson was birched and fined after he was suspended. Photo: Kyrre Lien (Scanpix)

TWICE: Teddy Bjarnason got his butt birched twice. Photo: Kyrre Lien (Scanpix)
KRINGSJÅ (Nettavisen): - "They lie across my lap. Then I give them the birch. One slap on each buttock. Very hard."
Grinning, Lyn's storekeeper, Tom Erik Jørgensen, says this to Nettavisen.
Tough times
Lyn's players have not had too much to be happy about on the pitch so far this season. Not only is the club struggling financially. The team has only won one of nine league games and is second last in the Premier League with just six goals so far. [...]
Outside the ground, there has not been too much jubilation among the Lyn players.

In fact, there has also been some screaming. For where other clubs only have a box for players to pay fines into it they do something wrong, Lyn has taken it all one step further.
Pretty brutal
For in the Lyn dressing-room they have introduced physical punishment in addition to the normal fines.
To put it bluntly, they have started birching players on the butt.
"My backside was bleeding. It's pretty brutal," said Lyn's Icelandic defender, Indridi Sigurdsson, to Nettavisen.
"Most people have a mark on their ass the next day, too," he chuckles.
But as Sigurdsson and all the club members point out, this is not about violence. It's about humor. And to create cohesion.
"The atmosphere is good, yes. We call it 'the weekly birching'," says Sigurdsson grinning.
Lyn coach Kent Bergersen tells Nettavisen that he thinks the idea is fine.

Lyn's Tom Erik Jørgensen. Photo: Mads Kvernen Kleppe
Bjarnason first
It all started when storekeeper Jørgensen got tired of Teddy Elmar Bjarnason's failure to return a pair of shorts.
At last the midfielder got the following message: "If you do not hand them back, you will get a birching."
Initially, Jørgensen's threat was not meant too seriously, but Bjarnason kept on forgetting the shorts. So the threat became serious. Bjarnason had to submit to lying across Jørgensen's lap. There he was given a very hard slap on each buttock. While the rest of the players witnessed the scene, with outbursts of laughter.
So far, Bjarnason is the only one who has had to pull down his pants twice, while Sigurdsson got it after the Stabæk match.
"I had to both pay a fine and take a birching after I got a yellow card against Stabæk that led to my exclusion from the match against Rosenborg," says Sigurdsson.
"The same happened with Fredrik Dahm when he forgot to take his boots to a match," he adds.
Even Jørgensen has been punished. Lyn players were not too impressed when he failed to pack special underwear before the team's friendly against Hønefoss before the season. Especially since the game was played in freezing temperatures.
"But the man who was to carry out the punishment did not dare to strike hard," said Sigurdsson disappointed, but still grinning.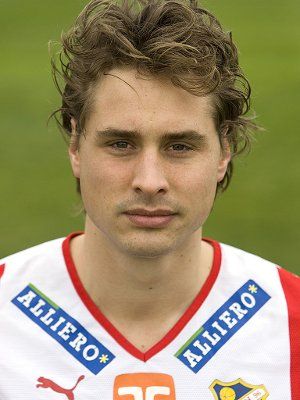 Fredrik Dahm - also punished. Photo: Terje Bendiksby
Anyone can be spanked
It's Jørgensen -- as well as the most central players -- who decides which offences are punished in this way.
"The only certainty is that you get spanked if you wash clothes that haven't been used. But no one has done that yet," said Sigurdsson.
Are there any other clubs who do this?
"Not as far as I know."
Positive
Lyn manager Erik Langerud praises the players for what he believes is just a humorous device that helps build team-spirit.
"If a player in Lyn had come to me and said 'I do not like this' - then I should have stopped it. But if you or anyone else had said it was terrible, I wouldn't have cared at all," he told Nettavisen. "We have an incredibly good team-spirit in our group of players ...
"Birching on the butt is a jocular thing, and is obviously not meant to hurt anyone. If it did, we should have put a stop to it immediately. This provides a lot of fun, and it is carried out with people standing around, watching. It is a great joke among football guys," he continues.
"In addition, it establishes a number of routines, so that people are not late, do not forget their boots, without the coach constantly having to remind them," says the Lyn manager.